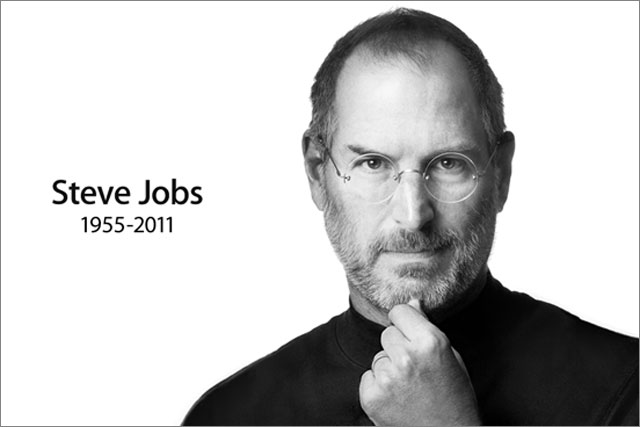 Obama said the world had "lost a visionary", adding "he was among the greatest of American innovators – brave enough to think differently, bold enough to believe he could change the world, and talented enough to do it".
Gates announced his sadness at Jobs' death on Twitter, stating he and his wife wished to "extend our sincere condolences to Steve Jobs' family and friends".
He said: "The world rarely sees someone who made such a profound impact."
Google co-founders Larry Page and Sergey Brin have each posted messages on Google+.

Brin posted this on his Google+ page: "From the earliest days of Google, whenever Larry and I sought inspiration for vision and leadership, we needed to look no farther than Cupertino. Steve, your passion for excellence is felt by anyone who has ever touched an Apple product (including the macbook I am writing this on right now). And I have witnessed it in person the few times we have met."
Page's message reads: "I am very, very sad to hear the news about Steve. He was a great man with incredible achievements and amazing brilliance. He always seemed to be able to say in very few words what you actually should have been thinking before you thought it. His focus on the user experience above all else has always been an inspiration to me. He was very kind to reach out to me as I became CEO of Google and spend time offering his advice and knowledge even though he was not at all well. My thoughts and Google's are with his family and the whole Apple family."

Facebook founder Mark Zuckerberg posted this on his Facebook wall: "Steve, thank you for being a mentor and a friend. Thanks for showing that what you build can change the world. I will miss you."
Jobs is credited with guiding Apple from the brink of financial ruin to one of the world's most valuable companies with a market value estimated at $351bn (£227bn).
Under Jobs' guidance, Apple transformed the way the world consumes media through innovations such as the iPod, the iPhone and the iPad, despite his health problems.
In 2004, Jobs announced he was suffering from pancreatic cancer and took medical leave from his position as Apple chief executive. Five years later he took another leave of absence and underwent a liver transplant.
After appearing to make a recovery, he relinquished his chief executive role permanently earlier this year and was replaced by Apple's chief operating officer Tim Cook.
In an email informing all Apple employees of Jobs' death yesterday (5 October), Cook said: "We are planning a celebration of Steve's extraordinary life for Apple employees that will take place soon.
"If you would like to share your thoughts, memories and condolences in the interim, you can simply email rememberingsteve@apple.com."
Apple is paying tribute to Jobs on the homepage of its website with a short message that says, "[the company] has lost a visionary and creative genius, and the world has lost an amazing human being.
"Those of us who have been fortunate enough to know and work with Steve have lost a dear friend and an inspiring mentor. Steve leaves behind a company that only he could have build, and his spirit will forever be the foundation of Apple."
Jobs' passing came the day after Apple unveiled the iPhone 4S, the latest evolution of its iPhone series.