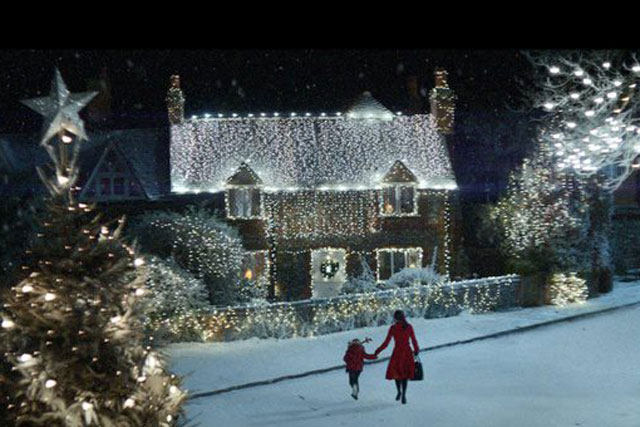 The lead, 20-year-old model Morven McSween, is seen wearing a Jonathan Saunders coat throughout the ad as she walks home encountering various people preparing for Christmas, before arriving home to find her five-year-old brother waiting.
The ad, created by JWT, is markedly different to the last Christmas campaign that ran in 2006 and featured a dancing modern Santa (see second video below).
The return to Christmas advertising is part of the company's increasing investment in its brand, in contrast with a previous focus on "immediate sales return in tough trading conditions", according to marketing director Richard Cristofoli.
Cristofoli said the retailer now felt prepared to launch its 'Christmas Made Fabulous' push as part of an "evolution" of its 'Life Made Fabulous' activity, which began in summer 2011.
Debenhams has used the backing track 'Illumielle' by German composer Jo Blankenberg who has worked on movies including 'Harry Potter' and 'X Men', in order to create a cinematic feel.
Cristofoli admitted the campaign now put it "in the John Lewis and M&S territory", but claimed its strategy was not dictated by competitors.
He said: "It is about having the right strategy for us and rebuilding recognition of the brand. The good news is [using 'Illumielle'] does take us away from using an old track recorded by a young artist, which lots of other people do in various shapes or forms."
The Christmas ad will feature Designers at Debenhams newcomer Jenny Packham for the first time, alongside stalwart designers Julien Macdonald and Henry Holland.
The campaign will be supported by a 'Christmas Made Fabulous' website, which will encourage people to share photos of "fabulous" Christmas moments, hold discussions about finding the perfect present and share unique recipes for the season.
Every week, Debenhams will give away prizes to people who have shared content on the site and further participation on Twitter and Facebook will be encouraged by promoted tweets that feature the #christmasmoments hashtag.
TV activity will launch on Wednesday (7 November) after being debuted today on social media sites, with television spots due to run until 15 December.
Media planning and buying is being handled by Carat.
Debenhams entering Christmas advertising again comes against a background of a 4.2% increase in profits and like-for-like sales up 2.3% for its full year.