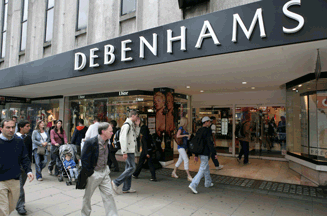 Like-for-like sales were down 3.5% for the 18 weeks ended 3 January 2009. In comparison sales at Next Directory were down 7% and Marks & Spencer is expected to report a drop in sales of between 5.5% and 9.6% tomorrow.
Debenhams increased footfall in its stores by running flash sales in the run up to Christmas, cutting prices on all its stock by 25% for three to five days. It also started its clearance sale on its website on Christmas Day and in-store on Boxing Day.
The department store group said that it continues to take market share from its competitors in all major categories. Its online business Debenhams Direct has grown substantially with a 37.4% increase in sales and its own-brought products and Designers at Debenhams brands have performed well.
Last month MCBD resigned the £16.5m Debenhams account, which it held for four years.