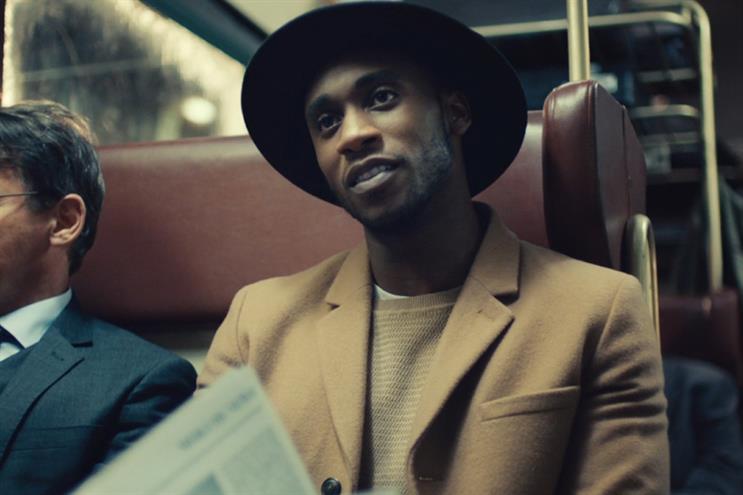 The "You shall find your fairytale Christmas" campaign, created by J Walter Thompson London, has launched today and tells the story of a man trying to find a woman he once met on a train.
The woman accidentally leaves her glittery shoe on the carriage while running for her stop and the man, desperate to find her again, launches a social media campaign under the #FindThatGirl hashtag.
Eventually they find each other thanks to the intervention of "fate", in the form of McGregor, who is revealed as an electrician who makes the street lights go out, causing the strangers to bump into each other again.
McGregor, who has been narrating the story throughout, then faces the viewer and says: "As for 'happily ever after', well, who knows?"
The spot was directed by Hanna Maria Heidrich through Believe Media and filmed in Budapest during July in 39-degree heat, with festive scenes created using fake snow and a vintage steam train. It was creatively directed by Andy Smith at JWT London.
The ad will be JWT London's last Christmas campaign for the retailer, which is poised to announce a new ad agency after reviewing its creative account earlier this year. Karmarama, Mother, Portas and Mcgarrybowen pitched for the business.
The full ad will air on TV during Channel 4's Gogglebox tonight after teaser ads appeared on TV and online from 6 November.
Carat handles Debenhams' media and the ad will appear on primetime TV slots and is running on ITV, Channel 4, Sky, More4 and E4. The campaign will run across TV, outdoor, social media, digital and print, as well as in store.
The shoe featured in the ad is a limited edition crystal-studded stiletto specially created by leading British designer, Jenny Packham, and is being sold by Debenhams for £99.
Richard Cristofoli, Debenhams' managing director of beauty and marketing, said: "Customers told us they expect to be entertained at Christmas. 'You shall' is a modern take on a classic fairytale with finding at its core. Our story is heart-warming and uplifting. The full campaign showcases our breadth of gifts for everyone."