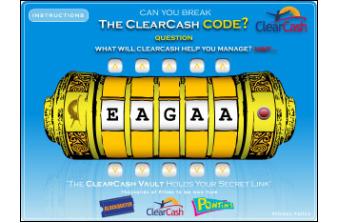 ClearDebt is planning to promote its ClearCash Prepaid MasterCard with online viral game, which provides consumers the chance to win prizes such as vouchers for holiday park brand Pontins. The viral, which challenges consumers to crack a five-letter code, can be found at www.breaktheclearcashcode.com.
The campaign, also featuring Twitter and Facebook activity, is being overseen by ClearDebt marketing manager Jacqueline Cohen. 'The people we want to reach aren't the type of people who are going to react well to another piece of marketing coming through their letterbox looking like an unpaid bill,' said Cohen. 'We created the game as something that will connect with people in a lighthearted way, yet get the ClearCash messages of helping with financial worries across.'
ClearDebt is using British Olympic boxer Joe Murray to promote the new prepaid card.