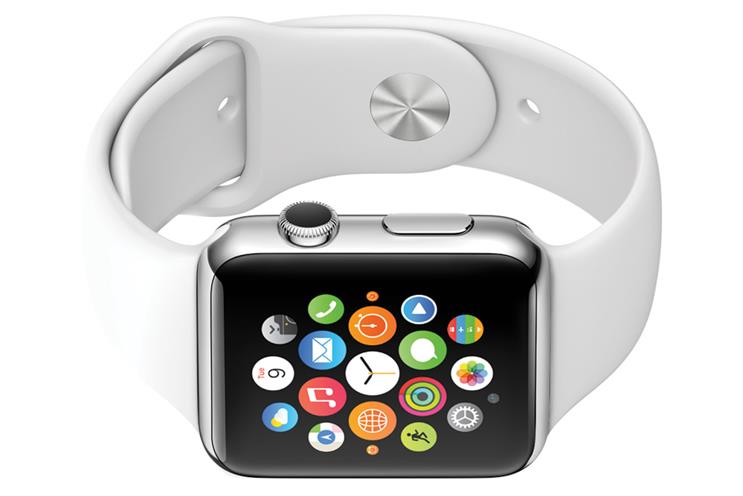 Apple smartwatch sets up camp in high-tech and fashion worlds
Apple has a history of scattering magic on underperforming markets. It drove the take-up of MP3 players with the iPod, revolutionised the smartphone category and brought tablets back from the dead.
Next it hopes to add some sparkle to wearable tech with the Apple Watch, positioned as a true hybrid of high technology and fashion.
The watch's USP is, perhaps, that it doesn't have one. The device will have numerous face and strap options, and must be paired with an iPhone for full use. It can also track a wearer's activity and nudge them to complete their recommended daily exercise.
More interestingly for marketers, though, it can share a user's health data with third-party apps. However, the watch is unable to run full apps, so brands will have to produce custom versions using Apple's development platform – risky if the device fails to take off.
It is certainly clear that, for once, Apple hasn't pipped the competition this time. The device will not go on sale until early next year, and no full reviews are yet available. In addition, early reports point to poor battery life of less than a day, suggesting that Apple has some kinks to iron out.

Facebook invests $2bn in Oculus VR
Anyone doubting consumer interest in virtual reality should take a look at Oculus VR's Kickstarter page. When the developer company launched in 2012, it hoped to raise enough cash to fund its Oculus Rift headset. It surpassed its $250,000 goal within 24 hours, with the total raised reaching more than $2.4m.
Such enthusiasm might explain why Facebook forked out $2bn to buy Oculus VR this year, even though the start-up has yet to offer a consumer product.
To date, it has released multiple developer versions of the headset, plus a prototype called Crescent Bay. The deal is astonishing both financially and because Facebook has never been a hardware company.
Both parties have hinted at more integration down the line and Facebook chief executive Mark Zuckerberg outlined a specific vision for Oculus Rift as a purchasing network.
However, pure-play gamers were largely unhappy about the deal, which led Markus Persson, creator of the popular video game Minecraft, to pull back from talks to bring it to the Oculus Rift.

Smart bulbs to light up living-room discos
The Q, a Kickstarter project that achieved full funding in the summer, offers consumers a way to stream music and create their own in-home disco, by using smart wireless light bulbs that change colour to complement the song being listened to and the mood of the listener.
The Q's kit includes LED Q Bulbs and a wireless router called the Q Station. The latter connects to the user's home-audio system, making it wi-fi-enabled, and communicates with the bulbs.
All the user then needs to do is choose a playlist and personalise the lighting via the free smartphone app.

Google joins $540m Magic Leap fund
In the wake of Google Glass, one of the most exciting developments in wearable technology and augmented reality, all eyes are on Google to see what it does next.
In October, it led a $540m investment in Magic Leap, a start-up claiming to offer better AR than Oculus Rift. It gives little away on its site, but has registered patents for motion tracking, eye sensors and advanced optical displays.
Photo leaks leave nothing to the imagination
Apps that promise 'self-deleting' or anonymous messages have grown in popularity over the past two years, fuelled by young people's rejection of Facebook and its real-world-identity policy, and the rise of mobile.
If the nexus between mobile data and apps meant 2013 was the year of messaging without consequences, 2014 was when it all came crashing down.
In an incident referred to as 'The Fappening', hackers targeted Apple iCloud accounts belonging to celebrities, including actress Jennifer Lawrence, stealing hundreds of private photos, many featuring nudity, and selling them online.
Apple denied the leak was down to a technical issue, saying hackers had guessed weak passwords and security questions.
In a follow-up incident – 'The Snappening' (really) – a second batch of explicit leaks affected Snapchat's young audience. Again, the company denied all blame, pointing the finger at third-party services that save images once Snapchat has deleted them.

Barclays to take online banking in vein
In September, Barclays unveiled a scanner that reads vein patterns in the user's finger to authenticate customers who want to log in to their online accounts.
The device plugs into a PC via a USB port, and gives the customer access without a password or PIN.
The technology – a first for the UK, although similar systems are in operation elsewhere – is dif­ferent from standard biometric scanners, in that it examines vein patterns rather than fingerprints.
The scanner, which will be available initially only to corporate customers, is due to roll out next year.
STAT ATTACK: £1500
The cost of a Google Glass headset in the UK.
The futuristic 'wearable' finally hit the UK this year, but poses several social and regulatory issues.
British cinemas have banned the device, while the Department for Transport is likely to make it illegal to wear Glass and drive.
Tesla makes cars open-source
Auto manufacturers are hardly renowned for being free and easy with their IP, but Tesla made a bold statement in June by releasing its electric-car patents.
Tesla founder Elon Musk said the company would not sue anyone who wants to use the patents "in good faith". He noted at the time that direct competition from the major manufacturers was so small that Tesla had nothing to worry about.
It isn't clear what "good faith" looks like, but the company is likely hoping for an adoption-boost, as other car-makers adopt its technologies and platforms.
Thomas Oh, chief operating officer of Kia Motors, told Marketing the decision was an attempt by Tesla to scale, but that his company would consider using the patents in future.
Google develops 'early-warning pill' for cancer
Google is taking on the fight against cancer, through its Google X research arm. It is experimenting with magnetic nanoparticles taken in the form of a pill.
Once in the blood­stream, these attach themselves to individual cells and can detect anomalies.
Any changes in the patient's bio­chemistry would be flagged up to a smart bracelet, acting as an early warning of heart disease or cancerous cells.
Medical and technical hurdles mean major develop­ments are unlikely for another five years.
Google said it would license the technology to third-party medical companies and would not be involved in the gathering or management of medical information.

Dyson unveils first robotic vacuum
After ploughing £5m into robotics research last year, Dyson is now seeing the results, having pulled the covers off its first robot vacuum cleaner.
It claims the Dyson 360 Eye is a little smarter than established rivals such as the Roomba. The robot's all-seeing camera maps images of the room at 30 frames a second, allowing it to triangulate its position and avoid potential obstacles.
The gadget can be controlled via a smartphone, and runs on tank-like tracks to navigate stairs or bumps. The device is expected to cost a whopping £700 when it launches in the UK next year.

Great Scott! Hoverboard arrives on Kickstarter
As many people who grew up in the 1980s will know, the hoverboard made its debut in the film Back to the Future Part II, when characters Marty McFly and Doc Brown travelled to 2015.
Sci-fi's vision of the future appears to be roughly in line with reality, with a functional hoverboard turning up on Kickstarter.
Hendo Hoverboards has shown off a prototype which levitates using magnets. This means it can truly hover, but only over certain surfaces.
The company was looking for $250,000 to develop the technology beyond its prototypes and begin consumer production, but quickly surpassed that total in pledges.
The $10,000-pledge price tag attached to the first 10 production hoverboards clearly wasn't too much to ask, as they've all been snapped up. However, there are always replicas of the board from the film available on eBay for $500.
The dark side of 3D printing: guns that are untraceable
Fans of 3D printing can now produce anything from their own VR goggles to smartphone covers.
However, the man who created the first 3D-printed gun, Cody Wilson, has edged further into worrying territory with a PC-connected milling machine that can help people build unregistered assault rifles.
His company, Defense Distributed, has produced the Ghost Gunner, a device that produces a metal component to connect a rifle's barrel, magazine and other parts.
This component, the lower receiver, is usually heavily regulated. Wilson's machine means would-be gun owners could potentially create their own untraceable rifles without a background check.

From watch to snap-happy drone – here comes the aerial selfie
Start-up Nixie has cleverly fused two of the most exciting developments in the tech industry – robotics and wearable technology.
Nixie's device is a tiny camera that sits on the wearer's wrist. This can then be detached to become a small quadcopter that can fly around and take aerial photos and videos before returning to its owner.
According to team lead Christoph Kostall, wearers can launch the device with a gesture, for example by twisting their wrist. The initial idea is to give snowboarders, climbers and other adventurers the ability to take photos of themselves mid-action.
Nixie scooped top prize in Intel's Make It Wearable competition, and a proto­type is being produced using an Intel Edison chip.
Blackphone's anti-spy smartphone arrives CIA whistleblower Edward Snowden's revelations that the US and UK governments, among others, conduct huge online spying programmes took many people by surprise, but has it changed the way consumers behave on the web?
Blackphone launched its eponymous smartphone to test the market for extreme privacy. The device runs a modified version of Android preloaded with a suite of privacy apps.
The idea is that all calls, text messages and online communications are fully encrypted, with the user choosing the level of privacy.
However, critics have pointed out the phone's underlying hardware is unlikely to be truly spy-proof. The phone is available in the UK for about £450.
STAT ATTACK: 50BN
Average number of WhatsApp messages sent daily, as of 2014.
Despite this, it lost Facebook (which bought WhatsApp in February) $232.5m in the first half of the year.