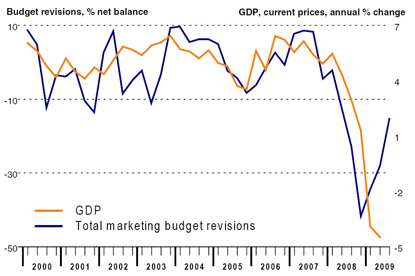 Although spend fell for the eighth consecutive quarter, the decline was the smallest in recent months as 47 per cent of companies reported improved prospects.

While above-the-line and other marketing channels such as below-the-line and PR all suffered a decrease in spend, internet advertising was the only sector to enjoy an increase in spend, with budgets rising for the first time since the second quarter of 2008.

Internet search saw a 5.4 per cent increase in marketing spend while internet advertising saw a 4.5 per cent increase.

It was the retail and travel and entertainment sectors that reported upward revision in spends, in contrast to the financial services sector, non-governmental services, IT and computing and the industrial sectors, which reported the steepest falls.

Despite an easing of companies reporting a decline, with only 28 per cent reporting lower revised budgets, the report urges caution.

The report suggests that while the worst of the downturn may be over, clients "remain wary of the robustness of the recovery and longer-term prospects".

This is reflected in cautious future predictions, which are in stark contract to a more positive outlook for GDP next year.

Rory Sutherland, the IPA president and vice-chairman of Ogilvy Group, said: "Although marketing spend is still falling, this latest Bellwether is an encouraging sign that budget cutting is slowing. It will be interesting to see whether the rise in internet spend will presage an upturn in other categories."