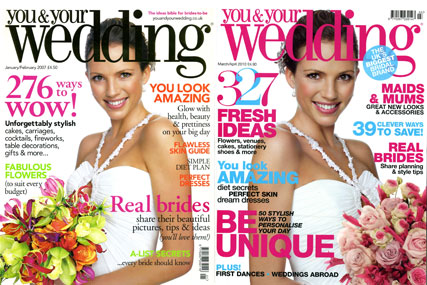 The latest issue of the NatMag bi-monthly title for brides and grooms appears to have an identical cover image to its January/February issue three-years ago, albeit in reverse with the model holding a different bouquet.
Matt Salmon, publishing director for NatMag's lifestyle group, defended the cover, saying it was chosen because he and the former editor of the magazine, Colette Harris, had not been happy with any of images from the shoot for the title's cover image, and did not have time for a reshoot.

They decided instead to use an image from the shoot for the Jan/Feb 2007 issue, one of the better selling editions. Salmon said that the latest cover is not the same as the Jan/Feb 2007 issue, but a different image from the same shoot.

He argued that the title looks different on the newsstand: "What the consumer sees is a bagged issue with a supplement in front. They do not see the naked copy."

NatMag merged the editorial teams for You and Your Wedding and sister title Cosmopolitan Bride at the end of December and Cosmopolitan Bride editor Miranda Eason now edits both titles. Colette Harris left the title at the end of last year.

You & Your Wedding sold 50,142 copies last year, a year on year drop of just less than 8,000, according to ABC figures.