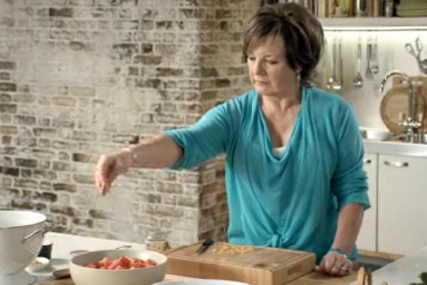 The UK's largest supermarket issued a statement today (31 March) thanking rival Waitrose and its "advertising gurus" for a welcome increase in demand for rhubarb.
Last week Waitrose unveiled its multi-million pound marketing campaign, created by MCBD, with an ad that that took up an entire ad break, starring the two celebrities cooking.
In the ad Smith demonstrates how to cook a rhubarb crumble using produce that is on sale at half price in Waitrose.
David Croxson, rhubarb buyer for Tesco, said: "We'd like to thank Waitrose for boosting our sales. We're delighted that so many people have chosen to take advantage of the great quality rhubarb available at our stores."
A spokesman for Waitrose said: "The Delia effect is as powerful as ever – we sold 14 weeks worth of rhubarb in the four days after the ad's first airing. We're sure that rhubarb growers everywhere will be very pleased and we're delighted that we are getting the nation cooking."
The campaign will continue with a weekly series of TV advertisements over the coming months, all featuring a new recipe. Each one will be backed up with press ads, recipe details online, in-store and in the new free guide to the weekend weekly publication, Waitrose Weekend.