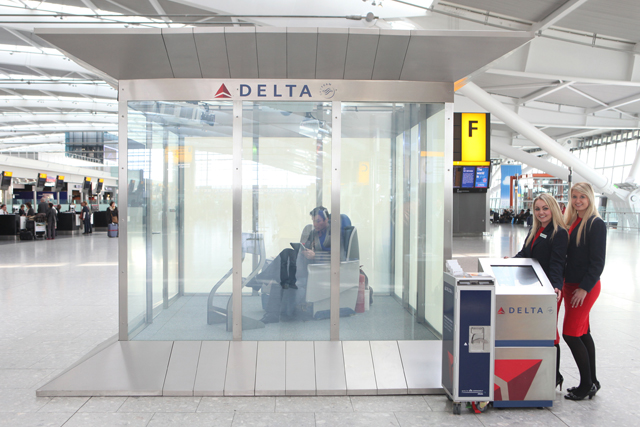 The campaign, created by experiential agency Avantgarde, launches this week and will run until 6 April. It will appear at a range of locations in London over the period, including Heathrow Terminal 5, Canary Wharf, and Paddington and St Pancras stations.
The activity features a white cube structure with glass windows containing the BusinessElite flat bed with a business class traveller lying in it. Consumers can use an interactive touchscreen to ask the business customer questions.
Delta's brand ambassadors will promote a menu designed by a celebrity chef, and the award-winning wines available onboard.
The campaign is also intended to highlight new nonstop routes from London Heathrow to Boston and Miami.
Perry Cantarutti, senior vice president, Europe, Middle East and Africa, Delta Airlines, said: "Delta is building its presence at London Heathrow and now provides convenient nonstop services to top business and leisure destinations in the US, Latin America and the Caribbean.
"We are excited about the addition of the Heathrow to Boston and Miami services. In conjunction with this we're delighted our new fully flat bed seats are available in BusinessElite on all our flights from London Heathrow."
In May 2009, Delta Airlines appointed Wieden+Kennedy to handle its global advertising account and develop a long term, global advertising and brand campaign, which was expected to be revealed last year.