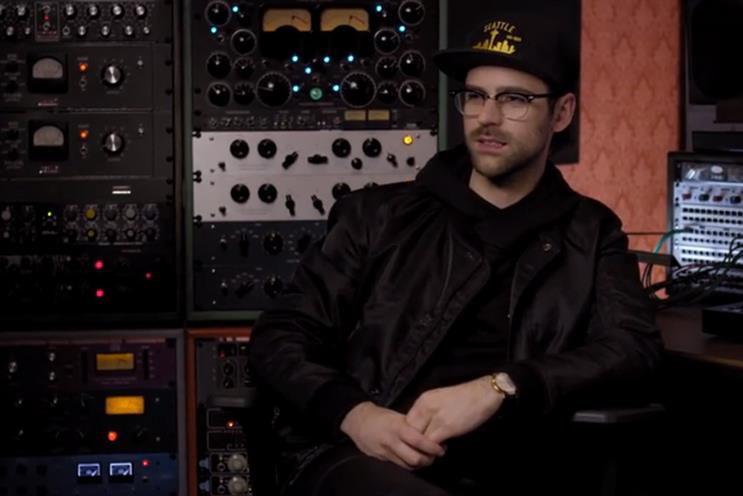 One of the biggest networking events isn't at the ground floor of a TED Talk or Austin's SXSW festival — it's 35,000 feet in the air. A new 90-second spot created by agency Wieden+Kennedy covers the fourth year of Delta's Innovation Class program which pairs a mentor with an up-and-coming business leader of tomorrow.
For the 57th The Grammy Awards next year, Delta is flying an eager student for the duration of the flight with producer Ryan Lewis of Macklemore & Ryan Lewis. This isn't Lewis' first trip to the Grammies — he's a four-time Grammy winner himself — but this will be the first time he'll be sharing ideas about the music industry with a lucky winner from social-network LinkedIn. In its fourth year, Delta's Innovation Class program has teamed mentors in fields such as cooking and technology with recipents who apply through LinkedIn.
Lewis' album was the first since 1994 to reach #1 on Billboard in the U.S. in 2013 without the help of a record label. That do-it-yourself attitude is Lewis' mantra — or as he says, "Quit over-thinking it, just do it."
In the 90-second preview, Lewis discusses all the people that mentored him along the way with either helpful encouragement or constructive criticism — which Lewis will impart on another up-and-coming leader.
Campaign credits
Client: Delta Air Lines
Project: Delta Innovation Class with Ryan Lewis
Executive Creative Directors: Susan Hoffman, David Kolbusz
Creative Directors: Sean McLaughlin, John Parker
Copywriter: Carl Jannerfeldt
Art Director: Jed Heuer
Developers: Justin Cegnar, Tim Holman, Colin Nelson, Dennis Plucinik
QA Lead: Sean Jones
Information Architect Designers: Mike Nesi, Cory Everett, Stephanie Laemoa
Creative Technology Lead: Mark Zurada
Interactive Producer: Mutaurwa Mapondera, Jen Vladirminsky
Executive Producer: Nick Setounski
Broadcast Producer: Luiza Naritomi
Account Team: Meghan Mullen, Lauren Smith
Head of Digital Strategy: Marshall Ball
Digital Strategist: Sam Mathews
Brand Strategist: Meranne Behrends
Director of Digital Accounts: Daniel Shaw
Project Manager: Lauren Amato
Business Affairs: Sara Jagielski, Keri Rommel
Production Company: M ss ng P eces
Director: Henry Chen & Ssong
Executive Producers:Ari Kuschnir, Kate Oppenheim
Head of Production: Dave Saltzman
Producer: Lucas Joaquin
DP: Mego Lin
Editor: Louis Palacios
Post Producer:Yamaris Leon
Assistant Editor: Stephen Nelson
Sound Company: The Lodge