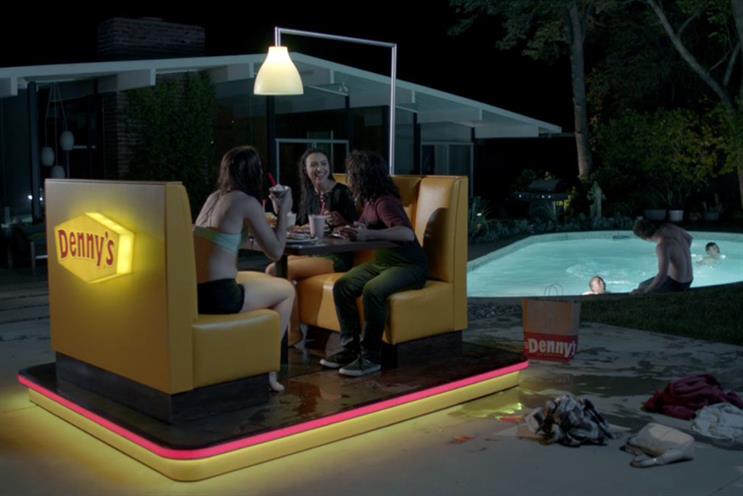 Denny's already has a powerful digital presence. The brand has amassed hundreds of thousands of followers on social media by embracing a quirky and witty online personality. Now, the restaurant chain is using social media to bring "America's diner" to every home.
Starting Tuesday, the brand is introducing "Denny's on Demand," a new mobile and online ordering system that allows consumers to order anything off the diner's original menu for delivery or pickup from half of Denny's 1,700 restaurants.
Denny's has upgraded its online ordering services, introducing new tracking and ordering capabilities at Dennys.com, a redesigned mobile app and through Twitter and Facebook. Denny's is one of first brands to utilize a new ordering function on Twitter, where the brand's 388,000 followers can order with a direct message. And on Facebook, the brand's 1.2 million followers can order through a chatbot.
"The launch of 'Denny's on Demand' is the result of our commitment to leveraging new technology to reach a wider audience and make it even more convenient for today's virtually-connected guests to enjoy their favorite diner dishes," said John Dillon, CMO of Denny's.
To promote the new service, Denny's is running a national TV campaign, created by the brand's AOR EP+Co, better known as Erwin Penland. A 30 second spot called "The World is Your Diner" and three 15 second versions encapsulate the idea that you can have Denny's whenever and wherever you want. The spot shows a family eating in a Denny's booth at The Grand Canyon, construction workers eating on top of a skyscraper and motorcyclists riding off with in a yellow branded booth into the sunset.
Denny's, which developed its program with digital ordering provider Olo, joins a growing group of national chains that are investing in digital ordering. In April, Subway, Applebee's and Red Robin began offering ordering online. Even Domino's Pizza, heralded as a market leader with its online pizza tracker, is streamlining its system to reduce its delivery time to 10 minutes. According to a March study by the NPD Group, digital deliveries have increased by 18 percent in 2016 and now account for nearly 2 billion in food service visits.
Like the other chains, Denny's will rely on third-party delivery services, like Postmates and Uber Eats, to get pancakes, hamburgers and milkshakes to customers as fast as possible. And to make sure fries aren't delivered soggy, Denny's will deliver all food in new custom take-out packaging made with microwavable and sustainable materials. On these, the restaurant will print a variety of Denny's tweets. That means consumers should expect to see silly remarks such as "Friends are like pancakes. You take them for granted until they're gone" and "A pancake will never cheat on you."
friends are like pancakes

you take them for granted until they're gone

— Denny's (@DennysDiner) May 16, 2017
a pancake will never cheat on you

— Denny's (@DennysDiner) April 25, 2017