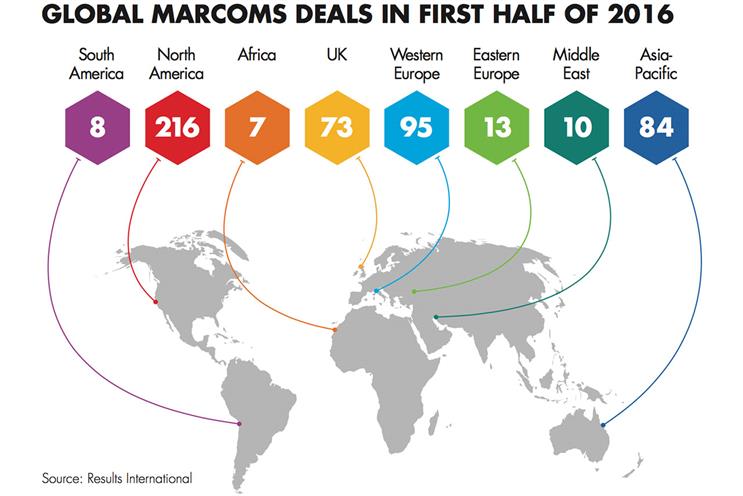 According to new data from Results International, the number of transactions between April and June dropped from 246 in 2015 to 219 this year. This was a 24% decline on January to March 2016, when 287 deals were struck.
Dentsu Aegis, the world's fifth-biggest advertising company, completed 22 deals, two more than WPP, the world's biggest holding company. The two networks have historically been the most acquisitive in the market.
In Q2, Dentsu Aegis bought UK digital out-of-home shop Liveposter and Australian performance agency Scorch. WPP acquisitions included Centrale Holding Du Bois Ording BV, a design agency in the Netherlands, and ePromode, a Malaysian brand activation shop.
There were 506 deals in total during the first half of 2016, up from 464 for the same period last year, with an overall disclosed value of $8.8bn (£6.6bn).
Jerry Buhlmann, chief executive of Dentsu Aegis, said acquisitions are a key accelerator of its strategy to become a 100% digital economy business by 2020, with 50% of the company's top management having come through acquisitions.
He said: "Our appeal to acquisition targets is further strengthened by our unique operating model with one profit and loss account per market. This means that when they join Dentsu Aegis Network, they are joining a team of colleagues rather than a company full of competition. This helps us provide a better service to clients with the strength and breadth of capability we can offer from across the network."
Other acquirers outside the major holding companies have made inroads into the sector, particularly management and IT consultancies. Accenture bought research and consulting business DGroup and digital agency IMJ Corporation in Q2, while Indian consultancy Tech Mahindra bought The Bio Agency, a digital shop, for $66.2m.
The analysis also showed that full-service digital agencies remain the top choice for many buyers; they comprised 12% of deal activity in Q2 with 27 transactions, on a par with the same period last year and up from 8% in Q1.