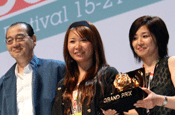 "Shutter Chance" for Canon promotes a two-second start-up camera with what jurors described as a "wonderfully scripted and beautifully produced" ad that managed to bring originality to an established category.

The soundtrack features a voice talking about interesting things happening, but the voice fades out after just two seconds, so that the most exciting bits are missed by a split-second.

"It was a quick decision (to award the Grand Prix)," the jury president, Mark Gross, the senior vice-president and group creative director at DDB Chicago, said.

"The production was good but the writing was also very funny about what in life was passing you by. It also sold the camera well, which is what great advertising is supposed to do."

Two ads that were also contenders for the top prize were "drums" from BBDO Cape Town for Marshall Music and a Mercedes-Benz spot, "nothing", from BBDO Düsseldorf.

In what is fast becoming a trend at Cannes this year so far, the UK hardly got a look in. CHI & Partners was the only agency to fly the flag, taking a silver Lion for Tango ("Heat 1") and three bronze Lions for the Toyota Yaris ("Spa", "Salsa" and "Take That").

The production company was Wave on all four spots.