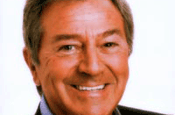 This year's ad, created by The Red Brick Road, will feature the TV veteran walking through a winter wonderland of Tesco Christmas offers.

As he goes, he will croon the Christmas classic 'chestnuts roasting on an open fire'.

O'Connor said: "It feels like the time is right to celebrate the return of the romantic ballad and big swing sounds.

"Performing a traditional Christmas song for the TV ad has been great fun, so I hope it puts a smile on people's faces.

"I'm delighted to be doing this exclusive deal with Tesco - who'd have thought, when I started out, that one day we'd be buying our music with our mince pies?"

The decision to enlist O'Connor puts an end to speculation that the retailer had turned its back on celebrity endorsements during the current economic climate.

Last month, the retailer was reported to have ditched high profile names, such as the Spice Girls, who last Christmas fronted its most expensive campaign to date.

The ad will also serve as a promotion for O'Connor's new album, Inspired, which will be on sale in the store for £7.97.

The ad is due to break at the end of this month.