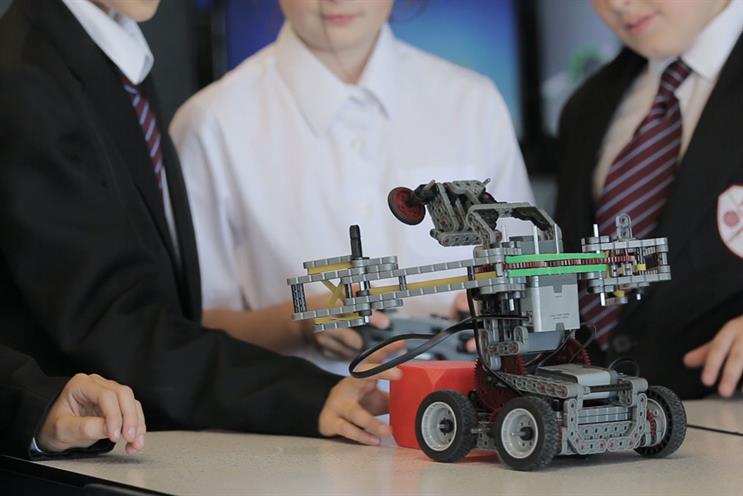 Our creative industries, and especially advertising and digital, need to wake up to an unfolding nightmare in schools that will, if we do not get up and fight it, lead to a scary skills shortage of creative talent in a few years' time.
It's really serious.
A few years ago, my company, Seymourpowell, worked with the Design and Technology Association to try to defeat Michael Gove's plan to remove design and technology from the core school curriculum along with art and design, music and much else. We made a film, we had a debate, we made a lot of noise, the Design Commission (a government body) championed it, D&AD and others got behind it and, as a result of that, these "creative" subjects remained on the curriculum. Hurrah! Battle won… or so we thought.
Since then, much has happened at government level around the English Baccalaureate and Progress 8 – both of which are evaluation tools to allow schools to be assessed for rankings. EBacc has five subject areas: English, maths, science, humanities (actually, history or geography) and languages (which can include Latin or Greek).
Progress 8 has these same five subject areas, as well as three optional subjects. These can be more of the above, or other GCSEs (such as design and technology, art, music etc), or other approved vocational subjects.
So Progress 8 sounds fine in theory, allowing young people to take art or design and technology at GCSE level and above. In practice, though, it doesn't work as schools in search of high rankings, and the all-important funding that goes with them, persuade pupils towards yet more EBacc subjects at the expense of "creative" ones.
The result is that these subjects are being run down. For example, the number of young people taking design and technology at GCSE level has halved over the past few years (from 400,000 to 200,000 per year). The departments are unsupported and the supply of design and technology teachers is drying up. To exacerbate all of that, these subjects are expensive to teach compared with classroom-based subjects, so it's an easy choice for a school to allow its decline.
One of the sparks that ignited so much excellence in our creative industries was the revolutionary inclusion of design and technology in the first national curriculum in 1989. Since then, design and technology in schools has fuelled a steady stream of young people going into related further-education design courses such as product, digital, architecture and interaction (contributing, in the process, to the growth of universities offering art courses). And, from there, into work in our successful agencies.
And the same is true of art. Young people studying this subject at GCSE and A level fill further-education courses in graphics, illustration, branding, advertising, fashion and others.
Fewer young people studying creative subjects at GCSE level and above will mean fewer going to art schools, colleges and universities. We already know that numbers are declining as a result of the whole student loans business (especially, and tragically, for young people from less-well-off backgrounds). Our supply of talent will collapse.
So, amazingly, the stream of talent is being systematically throttled by a government whose right hand champions innovation and our creative industries while its seemingly unconnected left hand is sleepwalking into the destruction of the very education system that makes creativity possible. Creativity that is required, in so many industries, to make the world work and which, in practice, brings to life the dry academics of science, technology, engineering and maths. The government is throwing the innovation baby out with the education bath water.
There is still time for the government to halt the decline without compromising its broader strategy, and the creative industries must make every effort to ram the importance of this down its throat. Realistically, EBacc is a done deal; but Progress 8 could be changed by insisting that at least one of the optional subjects be a creative one. This would go some way to slowing the decline in creative subjects by encouraging passionate young people to remain engaged in creativity through their school years.
Everybody – from those at big agencies to individual freelancers – needs to get off their butt and do something about this. Wringing your hands and hoping someone else will fix this won't work.
Check out the campaign film here or at data.org.uk/campaign and follow the links to show your support and write to your MP.
Dick Powell is the founder and chief executive of Seymourpowell