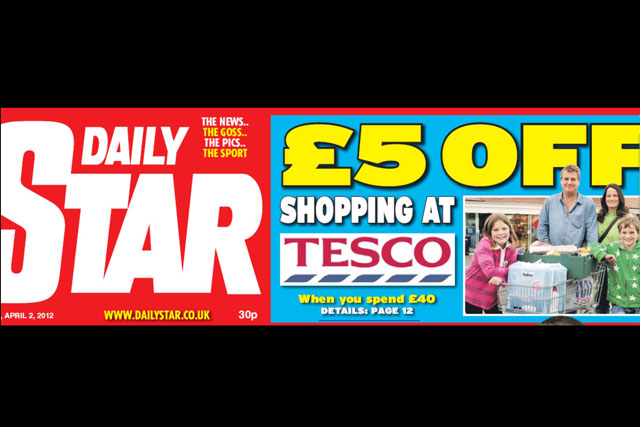 The press ads, which ran earlier this year, appeared on the front pages of the Daily Star and Daily Express, with text stating, "£5 off shopping at Tesco when you spend £40."
Both newspapers included an ad that was referred to on their front pages.
The ad included text which stated, "A helping hand from Tesco. £5 Off Simply spend £40 at Tesco this week and receive a £5 off coupon for your next week's £40 shop..."
The Advertising Standards Authority (ASA) received 12 complaints, which challenged whether the front pages were misleading, as the complainants believed they implied there would be a £5-off coupon inside the newspapers.
In its defence, Express Newspapers, the publisher of the titles, said it did not believe anything in the front page ads implied there would be a £5-off coupon inside the newspapers.
It said the text did not state or imply that there was a coupon, but only that it was possible to get £5 off shopping at Tesco when spending £40.
Express Newspapers added that if a coupon had been part of the promotion, it would have stated so, as it had in other promotions.
In its ruling, the advertising watchdog noted the front pages did not explicitly state there was a coupon inside the newspaper.
The ASA said: "We noted that the relevant pages instead included paid-for advertising by Tesco which described a promotion whereby customers would receive a coupon for £5 off the next week's shop if they spent £40 during the current week"
However, it said the overall impression of the ads was that customers would believe there was a discount offer that was available to readers, for example in the form of a money-off coupon, and this wasn't the case.
It ruled the ads to be misleading and said they must not appear again.
Follow John Reynolds on Twitter @johnreynolds10