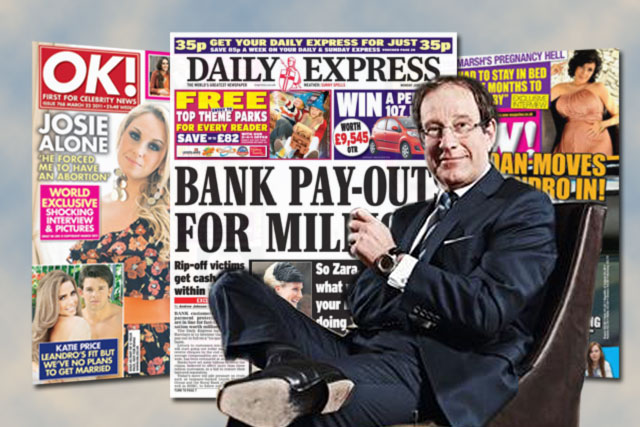 Talking in the week his holding company Northern & Shell revealed group profits trebled in 2010 to £30m, the media baron offered unequivocal assurance for those working at the Daily Express and Sunday Express.

Highlighting his £100m investment in new printing presses north of London, he told Media Week: "When you go and see Luton, all this shit about me selling the papers… Just go to Luton. I can tell you now, we are categorically not looking to sell the papers."

His comments end months of headlines suggesting the titles were on the block, and critics will no doubt conclude they come only after Desmond has been unable to find a buyer.

Yet the entrepreneur was also keen to stress that one of the underlying drivers of growth for Northern & Shell last year has been its ability to sell advertisers bundled solutions that run across his multimedia portfolio.

Following Northern & Shell's acquisition of Five, since rebranded Channel 5, last year, advertisers with the group are being offered packages that incorporate exposure on TV, in print and online too.

The success of his cross media sell would suggest his magazine titles OK! Magazine, New and Star are secure too, although curiously the new bespoke printing presses in Luton have not been designed to accommodate OK!.

"We can't do OK! because of the size up there," Desmond admitted. "But we're looking to take on more magazines."

Desmond also admitted to a renewed focus on his UK activities and confirmed reports he is looking to drop his commitment to the expensive US edition of OK! Magazine.

Launched in August 2005 with great fan-fare, the New York Times famously asked whether the celebrity-led magazine had been the most expensive magazine launch in history, after financials highlighted it had lost $175.7m in its first four years.

Media Week first revealed that the media baron had employed Barclays Capital to value and seek a possible buyer for Northern & Shell's magazine portfolio in March this year.

Desmond hinted yesterday (13 June) that he was more likely to land a publishing partner to form a joint venture than secure an outright sale of OK! in the US. He noted that the other international editions of OK! were already similiarly run as part of a joint venture or under licensing agreements.
The media mogul remains bullish about the position Northern & Shell now finds itself, having just filed financials with Companies House that highlight group turnover has rocketed more than five fold, from £103.3m in recession-ravaged 2009, to £524.8m in 2010.
He said: "What I love about those accounts. We started off the year with £95m in cash, and we ended the year with £95m in cash. We paid £100m for Channel 5, and a £100m on a new printing plant. Profits are one thing but the cash is very important."