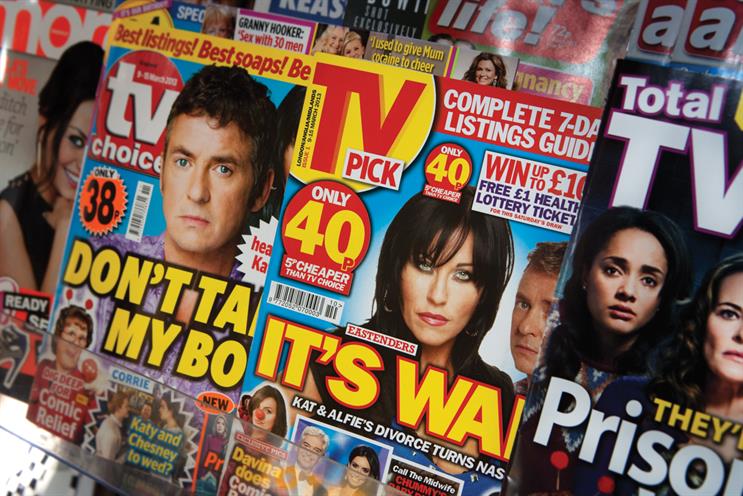 Richard Desmond's Northern & Shell hopes to shake up newsstands across the country this week with his typically audacious magazine launch, TV Pick.
A senior executive at his expanding multimedia empire insists there is no intention of testing the market quietly – and the launch cover declares: "It's war."
In a statement of intent that should send shockwaves along the corridors of his long-established rivals, sources say that Desmond's outfit, led by the group editorial director, Paul Ashford, is eyeing weekly circulations settling in the region of 800,000 for TV Pick.
If N&S comes anywhere close to enticing more than three quarters of a million people to the new magazine, it will represent a major assault on a sector that last year attracted some £30 million worth of advertising spend, according to Nielsen data.
In terms of circulation ambitions, TV Pick is more in line with the mega print launches of 25 years ago – when most of its listings rivals were born – than today's digitally driven, economically stagnant landscape.
In another typical Desmond twist, TV Pick follows in the footsteps of H Bauer's near-phonetic namesake TV Quick, which closed after 19 years just three years ago. Born in the aftermath of the deregulation of TV listings in March 1991, TV Quick enjoyed circulation highs of 740,000 in the late 90s.
But, over the next decade, the magazine haemorrhaged copy sales and slipped below 115,000 before the plug was pulled in June 2010.
Since then, TV Quick's Bauer stablemate, the 45p TV Choice, has been the market leader, selling on average 1.23 million copies a week in the last half of 2012.
Enter TV Pick, which hits the newsstands at just 40p (though TV Choice has cut its price to 38p this week) and offers readers a "free" £1 ticket for The Health Lottery, also owned by Desmond.
However, undercutting on price alone is no guarantee of success in today's competitive environment. For years, one of the biggest challenges facing any new title has been securing prime space on the nation's heaving newsstands.
So, in another bullish move, N&S has pledged to give 90 per cent profit margins back to newsagents for the first six weeks by way of a "never-seen-before" incentive for good positioning. Such guile and gumption is nothing less than what rivals expect from Desmond, who bought Express Newspapers in 2000 and then, ten years later, Channel 5.
The move threatens to devalue the news trade, nervous rivals complain. At IPC Media, its 52p What's On TV (weekly sales: 1.22 million) has already seen more than half-a-million sales disappear since 2000, so the publisher could do without increased competition. Meanwhile, in Bauer's portfolio, it's not just TV Choice but the real-life magazine Take A Break that could be affected.
The reality is that N&S knows what it is doing when it comes to publishing. Already home to OK!, New! and Star, the staff and contacts required to write, publish and print TV Pick were already in place, as was the years of experience in handling TV listings through Express Newspapers. It also provides a chance to step outside the fast-declining celebrity sector.
Arguably, the most surprising thing about this week's launch is that the TV listings sector in general remains so popular. At a time when TV schedules are available in most daily newspapers, across EPGs and all over the web, why 4.5 million TV magazines are sold every week remains something of a mystery.

Follow @DurraniMix