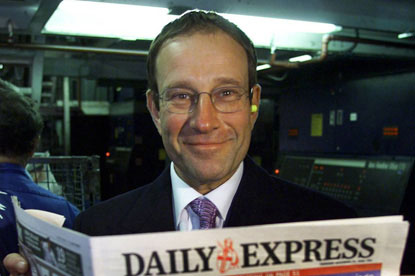 He will use his publications as part of a £1bn investment program to bolster his channel against public service broadcaster the BBC and commercial rivals, including ITV, Channel 4 and BSkyB.
However, although Desmond will be able to launch a print advertising blitz through his publications, he will not be able to reverse that and promote his publications on the terrestrial channel he acquired for £103.5m from German broadcaster RTL on Friday night.
The Express has a daily circulation of 664,293, while the Sunday Express reaches 566,934. OK! magazine currently sells 588,546 copies a week.
Desmond is also said to be keen to keep well-performing shows on the channel, including daytime soap 'Neighbours' and US import hits 'CSI' and 'Law & Order'.
The mogul has also said that his spending blitz for Five will include £20m to prop up Five's inclusion in Project Canvas, the joint venture between the BBC, Channel 4 and BT, to bring a "catch up" service to users who chose to view programming online.
Five pulled out of the Project Canvas project last month.
Since the deal was announced late Friday night, Desmond has made to be tongue-in-cheek references about buying primetime staples 'Coronation Street' and 'The X Factor', neither of which are currently up for sale by ITV.
He has also confirmed he has been "in talks" with producer Endemol to revive 'Big Brother' on Five, when it finishes its current – and final – run on rival broadcaster Channel 4.

However, Desmond is unlikely to pay the £80m Channel 4 is understood to have paid Endemol to broadcast the show over the past ten series.

Five has struggled and in the last financial year its German owner RTL had to write off more than half of the value of its UK operations.
Earnings had fallen 30% to £250m and 87 jobs have been slashed at the terrestrial channel from a total of 354 staff. The cost cutting measures amounted to £65m in costs.
The economic recession had led to Five's advertising plunging 12.5% in 2009.