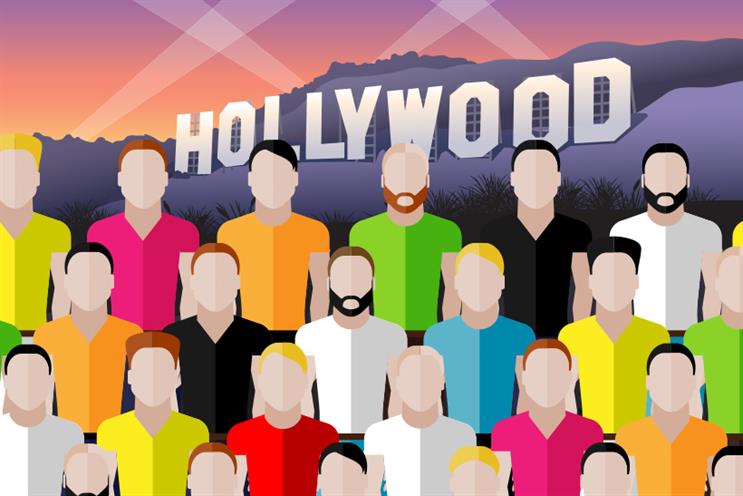 As any regular TV viewer can see, the industry has done a better job of diversifying its product in recent years. Where black or Asian faces were once relegated to a handful of supporting roles, they are now appearing more often as leading characters, and dominating shows on mainstream networks. A typical night on network TV might not yet fully reflect the expansive diversity of American life, but it has certainly come a long way from where it was just a few years ago.
Two ABC sitcoms at present featuring an Asian cast, "Fresh off the Boat" and "Dr. Ken," is a first historically. New seasons of scripted network hours "Empire," "American Crime," "How to Get Away with Murder" and "Jane the Virgin," among others, feature more diverse faces in lead roles. ABC's sophomore 'black-ish" earned the respect of the critics by tackling the subject of police brutality against black citizens. Next season ABC will feature a new sitcom, "Speechless," featuring Micah Fowler, a teen actor with cerebral palsy. And these participating networks on the panel offer additional opportunities to showcase the diverse face and voices of America by the individuals who represent those backgrounds.
Then there is the multi-ethically representative "Orange is the New Black" on Netflix, and the growing rise in product on the digital streamers with a greater blend of multi-cultures.
On Monday, executives from El Rey Network, Starz, TV One and WGN America gathered at the Television Critics Association Summer Press Tour in Los Angeles to talk about diversity and the TV business. And while the panel members were enthusiastic about the progress on-screen, they were quick to point out that efforts behind-the-scenes were lagging.
According to a new report by Variety, only an estimated 13% of writers employed in television in recent years were non-white. Of the approximate 50 showrunners for the upcoming season, only two are women of color, and only three are men of color. And while the current U.S. population is an estimated 51% female, only a reported 22% of women will run the new shows.
"I think people work with people they have an affinity for, which can limit the opportunities to others with different voices," explained D'Angela Proctor, SVP of Programming and Production, TV One. "A lot of times people's relationships are segregated, which can limit the level of diversity on camera and behind the scenes. I always tell people it is your obligation to get friends that don't look like you."

"We need to take action and create the kind of opportunities to ensure that casts and production teams are in line with our desire to build a more diverse Hollywood," added filmmaker and El Rey Network creator Robert Rodriguez. "I've spent the last 20 years of my career promoting diversity, but my approach was always more subtle. Like, 'Spy Kids' wasn't really considered a Hispanic or Latino film, and yet it featured predominantly Latino actors and characters. I wanted to try to make something that was just really mainstream and that people wouldn't even notice that the diversity was there because we didn't call attention to it."
Actress Tichina Arnold, who is currently featured in Starz comedy "Survivor's Remorse," credits social media with any progress being made. "I thank God for social media," she said. "It could be a gift and a curse if not used correctly, but I think social media is one of the reasons why we're all here on this stage, because social media has forced show business to take notice."
But diversity is about more than age and color, noted the panelists. Diversity is about age, social background and disability, which is something Hollywood sometimes struggles to remember. "Diversity is a very open term," said Rodriguez. "It has multiple definitions. As an industry, we need to make a significant change on how we develop the content. Our industry standards and benchmarks of success have to focus on opening the doors to talented visionaries whose voices are not necessarily being heard."
Even with the increase of platforms welcoming diversity on camera, "Underground" executive producer Anthony Hemingway is still apprehensive when it comes to making TV shows that better reflect the American tapestry. "I'd be lying if I said it's gotten easier, because it really hasn't. It's just giving us more opportunity and more areas to be able to go. When you get a 'no,' you have a hundred other places that are potential yeses. So things are shifting, you know. But it is not completely over."

Not by a longshot.