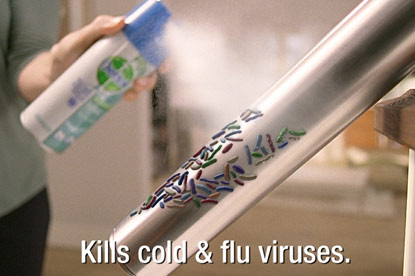 Close behind the Euro RSCG-created spot was Karmarama's Nintendo Wii campaign featuring Ant & Dec.
The survey, which measured more than 250 ads over the year, uses an early warning tool called Mercury to measure how likely consumers are to buy the product or service after watching an ad.
TNS claims the study can determine whether the consumer engaged with the ads and how they felt emotionally when they viewed them by asking them a series of questions.
Paul Baker, the head of Mercury at TNS Research
International, said: "In 2009, Swine flu dominated headlines and directly affected a lot of people. The awareness of how to keep the flu bug at bay was exceptionally high and Dettol pitched its ad just right."
JWT was the only shop to have two spots in the top ten with its Kellogg's Cornflakes and Kenco Eco Refill spots polling in the top five.
As well as the Wii ads, other celebrity-fronted ads including the Walkers spot featuring Gary Lineker and Cat Deeley riding bikes, the Morrisons campaign and an ad for Premier Inn, starring Lenny Henry enduring a hotel nightmare, scored highly for their motivational abilities.