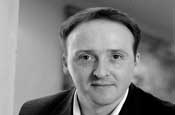 The agency, set up in 1989 as Duckworth Finn Grubb Waters, has famously been in acquisition talks with several parties over the years. Today, only one of its founders remains, Dave Waters.
The deal will see the agency move to Freud Communication's offices in Mortimer Street with joint managing directors, Tom Vick and Hugh Cameron, expected to move the new business. DFGW will retain its identity and run out of a separate unit within the PR agency with both companies sharing planning resources.
The deal, set to be signed later this week, follows the independent agency's failed merger talks with Lowe London last year. Lowe's efforts to acquire DFGW were put on hold when the agency lost Tesco, its largest client, after a 16-year relationship. More recently the shop was in talks with Saatchi & Saatchi.
The news comes after a tough 12 months for DFGW that has seen it lose a number of accounts including the BBC and Cow & Gate baby food brand owner Nutricia. Last week it emerged that one of its large electronics clients, Toshiba, was reviewing its business and had approached at least two global network agencies.