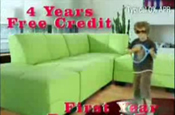 The ad, by the agency Gratterpalm, featured shots of people miming and dancing to the rock band Nickleback, superimposed on to film of a range of sofas.

The Advertising Standards Authority received 21 complaints that the ads misleadingly implied the products were bigger than they actually were.

Its ruling said: "We noted that DFS said it had not intended to exaggerate the size of any of the sofas featured in the ad.

"However, we considered that the production technique used in the ad meant that some of the sofas did appear large in relation to the actors."

DFS argued that, if it had exaggerated the size of its sofas, it would have caused large numbers of complaints to Trading Standards, which had not happened.

But the ASA said because DFS had not been able to demonstrate that the sofas featured in the ad were accurate reflections of the actual sofas, it concluded the ad was misleading.