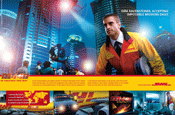 The Deutsche Post-owned international delivery service has shortlisted six digital agencies for a strategic brief. The review is expected to expand to include creative and web development later in the process.
DHL does not currently have a retained digital agency, although the company is globally aligned with Ogilvy Group for advertising. Ogilvy's business-to-business agency, Ogilvy Primary Contact, has handled a number of UK digital projects for the company in the past.
Media planning and buying is handled by Vizeum and is understood not to be affected.
The DHL International UK marketing director, Shannon Diett, denied the review was global, but said: "There is significant scope for us to deal locally with digital agencies. We've recently undertaken work with small local agencies, but the global deal with Ogilvy remains where the majority of our spend goes."
The approach follows the ongoing digital review kicked off by Fedex, a major rival to DHL, in February. The global courier company is still searching for a digital agency to work on a pan-European brief, which is understood to include creative as well as online media planning and buying.