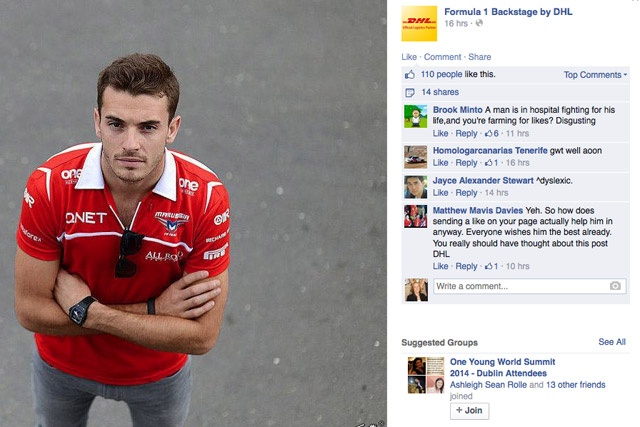 The company, which is F1's official logistics partner, posted some photos of Bianchi on the Facebook page, 'Formula 1 Backstage by DHL', along with the text, "Ghastly accident in Japan. Jules Bianchi is fighting for his life. By clicking 'like' on this occasion, you'll be sending Jules your best wishes for a speedy recovery."
The post has apparently since been deleted, but one of the photos used remains on the Facebook page and has a number of angry responses.
Meanwhile, screengrabs of the original post are circulating on Twitter and are being met with widespread disgust.
DHL Bianchi
The furore follows a serious accident at the Japanese Grand Prix on Sunday 5 October in which French driver Bianchi spun off the Suzuka track into a recovery vehicle, which was attending an earlier accident.
The Marussia driver sustained severe head injuries and was unconscious when he was taken from the track. He underwent surgery on his arrival at hospital.
A spokesman for DHL said: "Based on feedback we've received, we have removed the post and apologise for any offence caused.
"To clarify, we were not asking people to like our page (only the photo), and there was no aim of promoting the site or DHL. This was meant as a gesture of support for Jules Bianchi, and is based on our longstanding involvement in the F1 world.
"We accept that, taken out of context, it could be interpreted as inappropriate or cynical, but this was definitely not the intention of our social media team."