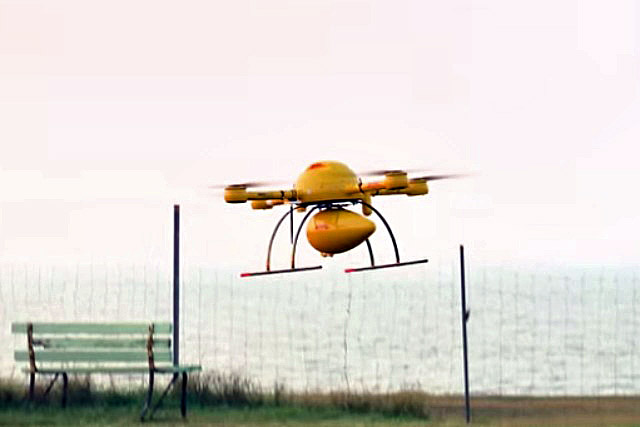 The German delivery firm has beaten Amazon and Google to the punch, with both companies still at the test stage for their own drone services. Google last month revealed its 'Project Wing' service, currently being tested in Australia, while Amazon said it hopes to have a commercial service up and running by 2018.
DHL will run a month-long pilot project to take orders from the island of Juist, located off the north-western coast of Germany. Islanders will be able to place orders with the local Seehunder pharmacy, and DHL will fly the goods from the harbour town of Norddeich, 12km away.
Depending on weather conditions, DHL's paketkopter, or parcelcopter, will fly the route to from Norddeich to Juist. Goods will be protected by a waterproof container, and a DHL courier on Juist will deliver the goods to the recipient.
The drone will maintain contact with air traffic control throughout its flight, and fly under 50m to avoid entering regulated air space. It isn't clear what will happen if the drone and its goods fall foul of the weather, but DHL said the drone will be "constantly monitored" by a ground station, which will take over manually if anything should happen.
DHL claims this is the first time a commercial drone will operate outside the pilot's field of vision. The process will also be fully automated – meaning the pilot won't actually be controlling the drone during its flight.
Amazon and Google have pointed to local regulatory barriers preventing their drone services going commercial, with fully autonomous commercial drones still illegal both in the UK and US. The US Federal Aviation Administration in June said it would ban delivery drones, although it also plans to revisit its rules next year.