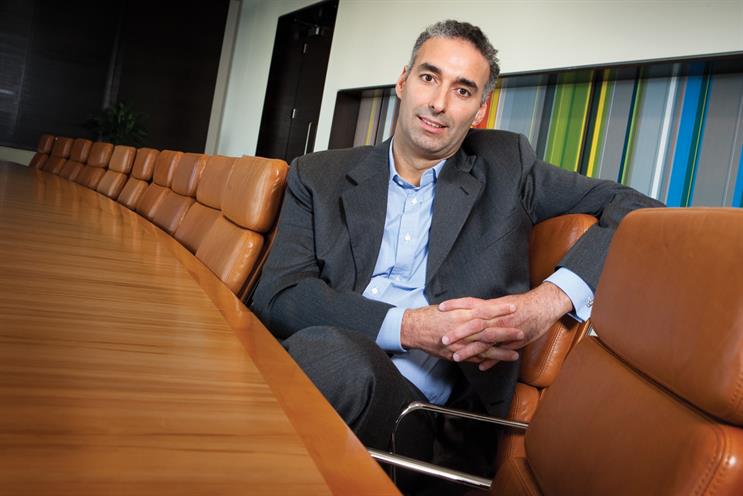 Luis Di Como is exactly the sort of man you would expect to occupy a senior role at one of the largest corporations in the world. He has supple leather shoes and that rare presence that commands authority but makes you feel calm. He reminds us of President Obama.
But there is something else. Due to his Argentinian roots (Buenos Aires born and bred), Di Como speaks English with a glottal Hispanic accent, which, combined with the few sentences that aren't grammatically flawless, causes him to occasionally sound like Manuel from Fawlty Towers. But, in the grand scheme of things, he is much more Obama than Manuel.
Di Como is a Unilever veteran. He joined as a graduate at its Buenos Aires office 21 years ago and worked his way up through different roles and different categories, including global head of communications planning and, latterly, vice-president of global media. His favourite category is the homecare business. "I'm really close to all the laundry products," he says, Manuel creeping out. "I know how to wash the clothes better than most!"
In a flash, Obama takes back over when we ask him about one of the biggest media reviews to have ever taken place, which saw Unilever, for the first time, rethink local planning and buying across the globe alongside a review of its global communications planning, all of which had a hefty £3 billion price tag attached to it.
The nine-month process resulted in absolutely no change among the local markets (Mindshare still handles the bulk of its local media planning and buying, including the key markets of North America and Western Europe), but one big change with the global comms planning – all of which was moved out of Mindshare and into PHD apart from household care, which went to Interpublic Group. The remaining third strand of the review, a new responsibility for global data analytics, has yet to be assigned.
Di Como says one of the reasons for reviewing everything together for the first time was "to address the fast-changing media landscape". "We take the iPad for granted, as if it has been there forever, but it launched only two years ago. It has completely transformed the media landscape," he explains. "That's why we always need to be at the forefront of everything that we're doing in the media space and that's why we always want to partner with the best agencies."
Was Di Como concerned about a result that would extricate the global comms planning from Mindshare, which handles the majority of local planning? "I think there is always a tension between this simple model that I would like to have one single agency across all markets on global comms planning and then I want the best of the best at every single little channel planning in each market," he replies. "I think when you analyse these two different areas, finding that sweet spot – that makes the best of an aggregate – is the most difficult thing."
Di Como explains that the four areas the agencies were marked on were strategic thinking, the ability to partner brilliantly with media vendors and deliver innovation, media efficiencies and talent. PHD got the highest score overall in the global comms planning element. "It is not only one single area that we analyse because, in some cases, Mindshare was better in one area, IPG was better in the other," he points out. "But when you take the full proposition, of course all of them are our agency partners and all of them are outstanding, but we are always looking for that small edge that makes the difference."
In an era when procurement has much more sway than any of us feel comfortable with, how much did price prey on the decision? Like a true diplomat, he says: "You can have fantastic pricing, but if you don't have any ability to deliver strategic thinking or you don't have people in place, it's not going to work."
For a company that was founded 82 years ago by a soap producer and a margarine maker, who both relied on importing palm oil, it is extraordinary hearing Unilever talk about the opportunity of global platforms such as Facebook and Google and "two-way engagement". Especially when, at the end of the day, Unilever is simply flogging products such as soap. Yet Di Como is proud of the brands he sells and he talks about Unilever's "partnership" with Facebook with pride. He explains that, two years ago, there was a total of 150,000 Dove fans on Facebook; at the last count, there were ten million.
His favourite recent campaigns include those that launched two products into new markets: the TRESemmé hair brand in Brazil and Magnum ice-cream in the US. Unilever claims turnover achieved by TRESemmé sales in Brazil went from nothing to more than e100 million in just 12 months. For the ice-cream brand, the current positioning that the Magnum customer is a "pleasure seeker" became the idea for a partnership with Microsoft. Internet users were invited to play an interactive online game that follows a woman making her way through the web in acrobatic style to get hold of the "ultimate pleasure" – a Magnum ice-cream.
Di Como says these campaigns are modelled on the T-shaped approach vital for a global company looking for local, drilled-down engagement. Unilever calls it being "glocal". He sums up: "Glocal is our approach in order to leverage all of our scale at the global level but, at the same time, have relevant intimacy at the most hyper-laser target for the people we serve."