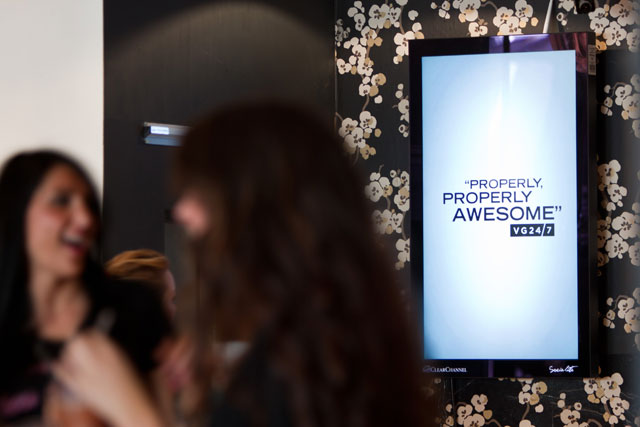 The network, known as 'Socialite', kicks off with 180 screens across the UK through a partnership with bar chains Revolution and Walkabout as well as a number of independent pubs and bars in large towns and cities.
The 40-inch LCD high definition digital portrait screens can stream static, full motion and dynamic video and can be booked by time of day, location or to coincide with special events.
A spokesman for Clear Channel Outdoor said the network already has a weekly audience of 650,000 and has a presence in London, Manchester, Liverpool, Birmingham and Leeds.
Rob Atkinson, chief operating officer, Clear Channel UK: "Our new Socialite network combines high dwell time with the context, creativity and immediacy offered by digital technology.
"Advertisers will be able to plan campaigns by location, time of day or special events. In 2010, 690m people had the opportunity to see a screen within our digital network and we are committed to significantly growing our networks and audiences into 2011 and beyond."
The Diageo activity was booked by Vizeum and Posterscope, the 20th Century Fox campaign was booked by Carat and Posterscope, the EMI ads were booked through StarcomMediaVest group and Kinetic, the HTC campaign was by ZenithOptimedia and Meridian Outdoor and the Sky ads were booked by IPM and MediaCom.
According to results for the second quarter of 2011 global revenues at Clear Channel Outdoor were $789.2m (£483.3m) in the three months to 30 June 2011, up 13.1% year on year.
Clear Channel International, which includes its European and Asia-Pacific businesses, reported revenues of $447.4m (£274m) in the second quarter, up 19% year on year.