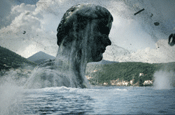 The spot focuses on the Smirnoff's purification process by showing an ocean that cleanses itself of debris.

Chris Lock, the marketing manager for Smirnoff, said: "When we launched "Sea" in 2007, we were confident that we had found an innovative way of growing the profitable vodka category by creating an inspirational advert.

"A year on, this expectation has materialised into proven results, with research showing that the campaign significantly increased consumers' view that Smirnoff was always of the highest quality and purity."

To view the ad, click here.