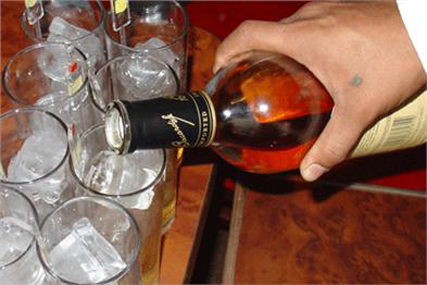 Net sales were up from £9.31bn to £9.78bn in the year ending June 30.
The company said that its performance in developing markets had offset weakness in the Western Europe. The group's overall marketing spend lifted by 7% from £1.32bn to £1.42bn.
In the period, Diageo overhauled its global marketing department in an effort to move towards a category-led approach.
It created
two new global category roles
: one covers vodka, gin and rums and the other its whiskey portfolio, as it looked to up the ante against its rivals.
It has also been cutting jobs in a bid to take around £120m costs out of the business.
Commenting on the results, Paul Walsh, chief executive of Diageo, said: "As expected, this has been a year of challenges and opportunities.
"Our performance was much stronger in the second half than in the first. Our performances in the developing markets drove overall growth, while markets in North America and Europe remained weak."
Walsh pointed to the group's increased marketing spend in growing categories, such as beer and Scotch, and upping its spend behind its flagship brands, Johnnie Walker, Smirnoff and Captain Morgan.
Walsh said he was confident that in 2011, the group could improve on its organic operating profit growth this year.
The results reveal that Europe, however, remained a challenging region for Diageo. Net sales were down 2% and operating profit fell 1%.
The group said that it had delivered "strong" results in Great Britain, but did not give further details.