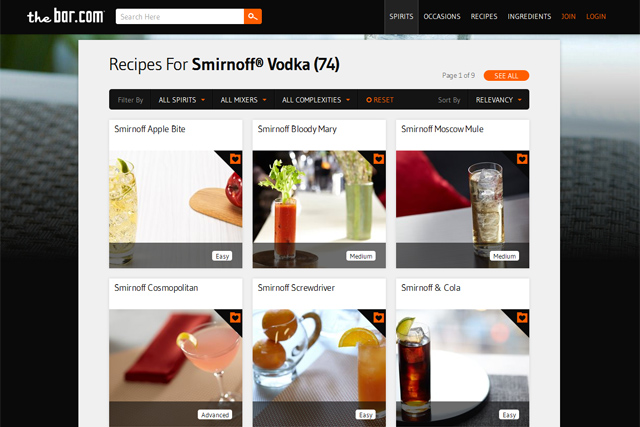 The drinks giant, whose brands include Smirnoff and Gordon's Gin, said thebar.com will aim to establish itself as the "go-to" resource for recipes, top tips and background information on spirits.
The site, which works across desktop, mobile and tablet devices, was created by TMW and features recipes categorised by the type of spirit and occasion. Recipes are arranged by complexity, from simple mixers to more advanced cocktails.
It also allows users to comment on and share recipes via social media platforms. Consumers can add recipes to their list of "favourites" and assemble a shopping list that can be transferred directly to their preferred online grocery store, enabling them to buy all the ingredients online, a first for any Diageo website.
The launch will be supported by a £1m marketing campaign, including advertising on websites such as BBC Good Food. As well as a UK launch, thebar.com will be rolled out in Germany in the coming months and across seven other markets by 2016.
Paul Cornell, Diageo customer marketing team for Western Europe, said: "On average, there are over four million web searches for cocktail and mixed drink recipes every month, so we know that there is a demand for a website providing information about mixing drinks at home.
"With a combination of product info, recipes and ideas on how to be creative with drinks, thebar.com aims to be a credible and educational resource to help inspire creativity and drive trials of new drinks in the home, showing consumers that spirits can be a fantastic alternative to beer and wine."