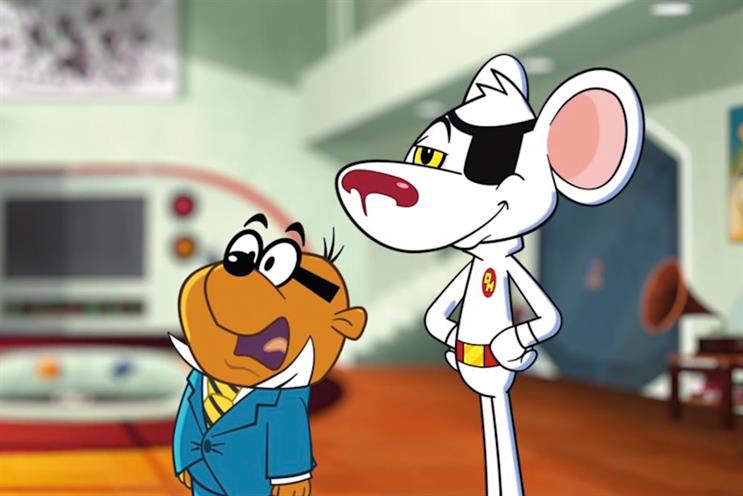 The BBC needs to keep a lid on costs, so it was surprising to see its children's arm, CBBC, running not one but two cinema ads at the weekend. Separate promos for Scream Street and the new series of Danger Mouse (pictured, above) were shown before screenings of the Dracula-themed kids' film Hotel Transylvania 2. Don't expect the Beeb-bashing culture secretary and horror-movie fan, John Whittingdale, to find it cute.
Get this party started
Diary attended YouTube's Brandcast last week – it was a spectacular event and rumoured to have cost the Google-owned platform north of £1 million. One curiosity Diary noticed shortly after arriving at Battersea Evolution was how many American voices could be heard in the throng. It was a complete mystery until, at the end of the speeches, DJ Robin Schulz (pictured, above) came on stage to perform Prayer In C and voices urged guests to get up and dance. As the bulk of industry folk stayed glued to their seats, a small crowd of people came from the back and started boogieing. The penny dropped: so that's what the Americans were for.
A tiny package
Andy Nairn likes to give people chocolate medals when they say something nice about his agency. For instance, when he read Charles Vallance's comment in Private View that Lucky Generals' work for Paddy Power was so good that he was showing everyone his "tiny jealous penis", Nairn dashed off a medal and a quick note reading: "Hope this helps your tiny penis." Except it wasn't Vallance who made that comment; it was that week's other reviewer, Oli Beale. Vallance, ever the gentleman, Tweeted a "thank you" to Nairn for the gift, gracefully glossing over the apparent slight to his crown jewels.
Got a Diary story? E-mail us at campaign.diary@haymarket.com
---
Social photos of the week, 23 October 2015
In Back To The Future Part II, Marty travelled to 21 October 2015. To celebrate the momentous date, BMB put up an 80s-style version of its website for one day.
Campaign's picture of the Grey strategists Matt Springate, Alistair Green and Wiktor Skoog was posted on Facebook and soon attracted a comment reading: "Straight outta Compton." It didn't take long for someone with Photoshop to do the rest.
St Luke's partners – Al Young, Jules Vizard, Neil Henderson and Dan Hulse – at the agency's 20th-birthday party last week.
Tweet or tag your pictures to @campaignmag or #CampaignDiary