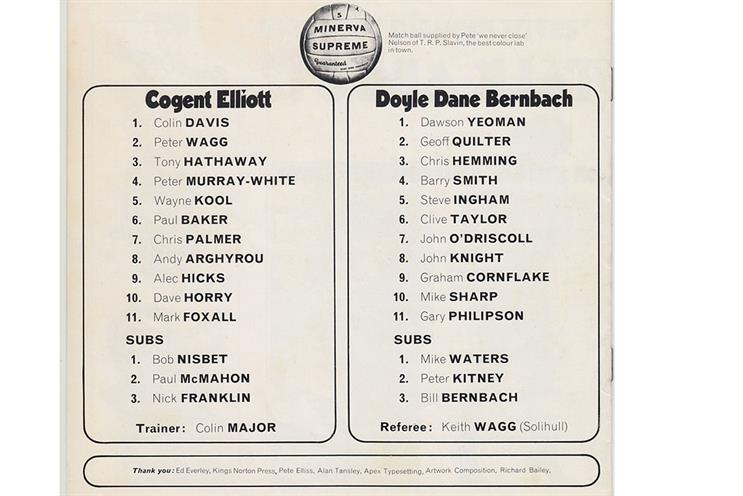 Well, let Diary give you a hand. Seasons In The Sun by Terry Jacks was at number one in the, ahem, hit parade, Abba had just won the Eurovision Song Contest with Waterloo and audiences were busy queuing up to watch John Carpenter's Dark Star at the cinema. Elsewhere, two agency football teams – DDB and Cogent Elliott – were squaring up on an AstroTurf in Islington to raise funds for Nabs. While some of the players' names, such as Chris Palmer and Dave Horry (father of Toby), might look familiar to older readers, of particular interest is DDB's third sub – Bill Bernbach. Those wags.
You know Tim Linday…
In last week's Campaign, Nils Leonard wrote a beautiful review of the new D&AD Annual. In the piece, he enthused about its smell and beautiful spine while also acknowledging that it was not without faults, such as the functional descriptor typography. What Leonard failed to spot, however, was a more fundamental error. In the foreword to the weighty tome, someone managed to spell the name of the D&AD chief executive, Tim Lindsay, wrong – calling him "Tim Linday" instead. Surely this can't have been part of the "indulgent ringpiece of irrelevance" that Leonard also described?
Party like it's 1992
The return of the Lost Boys brand was welcomed in lavish fashion last week with a party in Shoreditch, complete with face paints, glitter canons and lasers. Guests were part of an "interview process", with actors leading them through various tasks, bringing to mind the classic 90s game show Crystal Maze. But, instead of the Futuristic and Aztec Zones, this party could have had ones of its very own – suggestions included the Ironic T-Shirt Zone and the Big Beards Are Cool Zone.