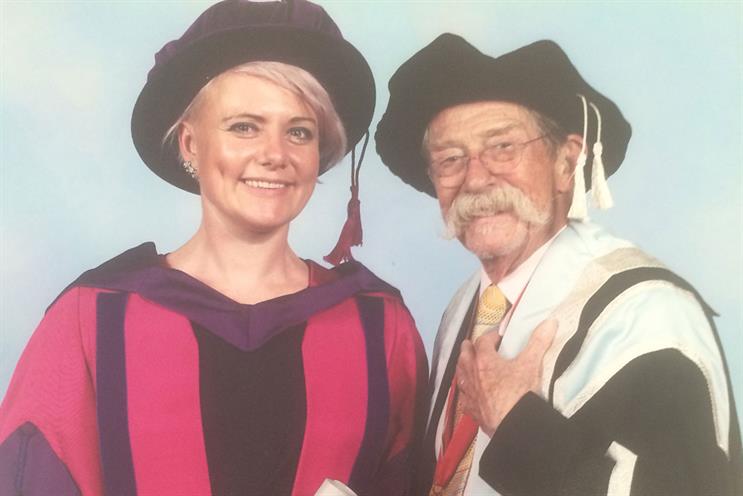 Laura Jordan Bambach, the president of D&AD, has received an honorary doctorate from Norwich University of the Arts for her services to graphic design. Jordan Bambach, who is also a creative partner at Mr President, moved from digital design to advertising to become one of the original female digital-first creative leaders. But the award was also in honour of her work in developing other people's careers. Jordan Bambach has worked with Norwich University of the Arts for several years and founded the organisation SheSays in 2007 to help women in the creative technology industry. If getting to wear a doctor's gown was not enough, as an added bonus the celebrated actor and the university's chancellor, John Hurt, presented her with the degree.
Beware: wet paint
The headhunter RedSofa recently held a competition for creatives to design their own tattoos, with the winning entrants getting tattooed live at a party in Shoreditch. There was mild controversy over one image, which was actually Leonardo da Vinci's Study Of Horse And Rider. The designer, WCRS's Manu Ridocci, duly protested his innocence, insisting he wasn't plagiarising but in fact "turning great art into modern living great art". However, further drama was soon on its way. As the party was reaching a climax at 2am, the "deep house" became too much for the residents of the flat above the party, who chucked three buckets of cold water at the guests below. Ian Dunbar from the suitably named agency Splash said: "I was prepared to leave the party with a tasteful little tattoo but not a shrunken linen jacket!"
Whatever happened to the summer hols?
Agency life can be feast or famine. Either you're twiddling your thumbs and numbly watching tumbleweeds roll through the creative department or you're praying for extra hours in the day. Few would argue that the latter is the lesser of two evils, but that doesn't stop a bit of grumbling when the work piles on. And so it is at Wieden & Kennedy. Things are so busy with clients such as Tesco that people have started calling it Weekend Kennedy. Nicknames bemoaning busy shops are nothing new, though. BBH has been stuck with the GBH moniker for years. That's what you get for teaching people to be creative.