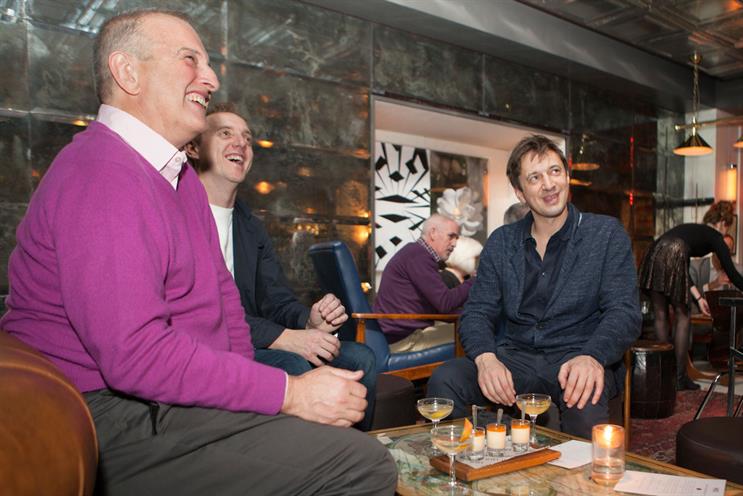 A lunch menu to do Don Draper proud
The three-martini lunch is back. Those Campaign readers privileged enough to have worked through the 60s will know what a proper adland lunch is. Well, the restaurateur Mark Hix is on a mission to start an "underground martini movement to bring back a bit of Soho we all know and love". He has paired three different martinis with dishes such as Carlingford rock oysters and Yorkshire game venison sausage roll. Ahead of the official launch – which will be available every Thursday in Mark's Bar, downstairs at the Soho restaurant – Hix invited some of adland's greatest (lushes) to sample the fare. Gravity Road's Mark Eaves, Mark Boyd and David Pattison were on hand to show their neighbour some support.
Labour landslide
Politicians from the three main parties fought to win the industry vote at the Advertising Association's Lead conference last week. But before they were allowed to state their case, they were asked to play a game of "name that jingle". What better way to find out how much they cared about advertising? The Tory MP and former culture secretary Maria Miller was up first, trying to name the Direct Line theme. "Carphone Warehouse?" she guessed. Labour's Chris Bryant guessed the Intel tune correctly, but lost half a point for calling it "irritating". Amid all the excitement, everyone forgot that the Liberal Democrat MP Tom Brake didn't get to play at all and Bryant was declared the winner. Diary assumes this would be good practice in the run-up to the vote…
A bone to pick
And so to the Natural History Museum, which has announced that it is to move its diplodocus from the main hall, to the disappointment of children and parents everywhere. Apparently, the plan to suspend a blue whale skeleton from the ceiling is part of a strategy to show new animals in the space. But we think it is really due to Harvey and Harmony's antics in Thinkbox's recent TV ad, when the two dogs couldn't resist dragging away a bone or two when they visited the museum on a date.