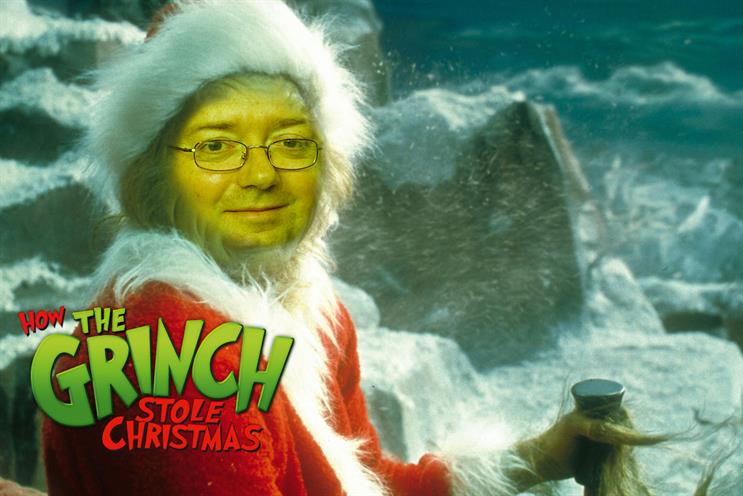 With pitches scheduled to start on 19 January, there is talk that the chosen shops may have to "cancel" Christmas and New Year. We've decided to offer an early gift by doing some of the creative work for them. Behold, Philip Almond, the BBC's director of marketing and audiences, as the Grinch who stole Christmas (pictured above). Thank us later.
Did you hear the one about the creative…
Every office has its clown, but Bartle Bogle Hegarty goes one better – its resident joker, the creative George Brettell, has just won the Nando's New Comedian of the Year award in Edinburgh. Brettell was too modest to supply a sample joke, saying that it won't work well in print, so we nicked one off his Twitter feed (@Georgebot5000): "My girlfriend is unreal in bed. And everywhere else. She's not real." Yeah, not bad. Not bad at all.
Adland's masterchef
The winner of Flickr and Campaign's recent The Biggr Picture competition, Jonathan Dale, received his prize last week: a masterclass with the Michelin-starred chef Daniel Clifford at his restaurant, Midsummer House in Cambridge. Dale, who is the new-business director at St Luke's, spent a day working in the kitchen under the chef's expert tutelage and will return later in the year to enjoy dinner from the other side of the pass. As a new series of The Great British Bake Off hits our screens, the innuendoes of baking smutsters Paul Hollywood and Mary Berry were a welcome absence.