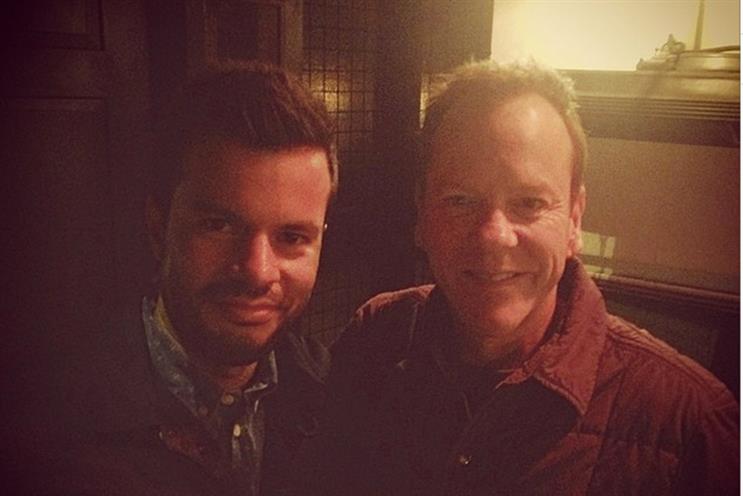 As the terrorism drama 24 returns to TV – set in London this time – the Leo Burnett agency Holler found itself in the midst of its own adventure starring Kiefer Sutherland. Paolo Nieddu, a partner, bumped into Sutherland recently and, naturally, took a picture with him. Days later, Ben Swindell, another partner, also bumped into the Jack Bauer actor and took a photo with him. The third partner, Dan Hocking, was then set the challenge of meeting Sutherland within 24 hours to complete the hat-trick. He didn't manage it but, luckily, the consequences were not fatal. Watch his mission video at campaignlive.co.uk.
Adland's very own expenses scandal
Whoever said the advertising world was decadent or wasteful was a fool. There is nothing, it seems, that some resourceful adlander cannot put to good use. Discarded receipts, for instance. Word has reached Campaign towers that the Carlton Cannes hotel has become a lot more careful about leaving proofs of purchase lying around and even about handing them to customers who do not specifically ask for one, due to the number of enterprising souls who have been collecting mislaid chits and using them to file fraudulent expense claims at their own agencies. The Carlton did not return repeated requests for comment.
Beware of sugar-trap
At least one industry body has been warning its member agencies about a team from the Channel 4 show Dispatches who are seeking to expose sharp practice in advertising. It seems the cunning Channel 4 journalists invented a high-sugar drink and touted it around adland to see who would be willing to promote it to children. The documentary will air on 2 June, for those rubbing their hands at the thought of seeing a rival squirm. The Advertising Association is understood to be working on a response. Perhaps it could remind Channel 4 of how its The Mad Bad Ad Show comedy series bombed.