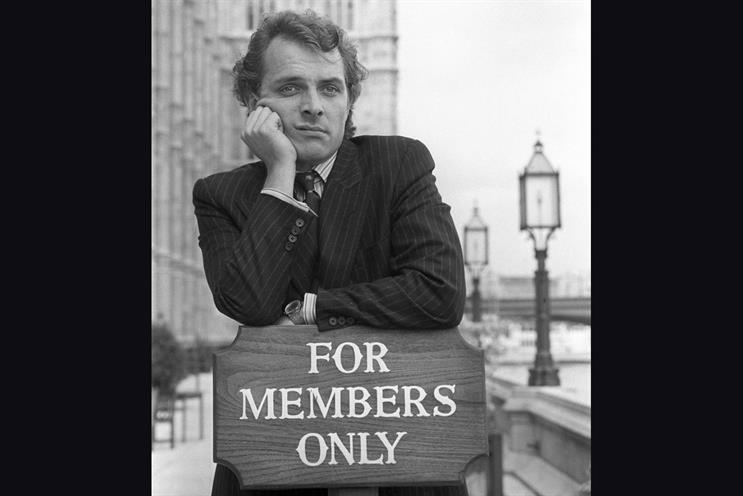 London housing? Elitist?
It has been a shocker of a month for companies advertising high-end properties. First came a film by the developer Redrow London, which tried to show the inspirational rise of a city boy but looked more like American Psycho reshot by the guys who made Crossroads. Next was a cringing video for One Blackfriars that featured a wealthy-looking couple flouncing about London and was labelled sexist and elitist. Now, Development Securities has been asked to apologise for an ad about the Cross Quarter development in Abbey Wood. The spot, which targets Asian investors, boasts that the building would have "no social housing". It's like the 80s all over again, except Rik Mayall (pictured) is unfortunately not around to satirise it.
Monty meets Python
Sarah and David Golding – the chief executive of CHI & Partners and co-founder of Adam & Eve/DDB respectively – must be in with a shout for the title (what do you mean? Of course there's a title) of adland's premier power couple. The pair went on holiday to Mustique over Christmas, sharing a resort with Sir Mick Jagger and John Cleese. When Cleese found out David's agency was responsible for John Lewis' advertising, he invited the Goldings to dinner because he liked the "Monty the penguin" ad so much. If John Lewis' Christmas campaign this year involves Cleese arguing with Michael Palin about the health of an oddly stiff Monty, you'll know why.
BBH knows how to party
Bartle Bogle Hegarty dropping Waitrose as a client to take Tesco's ad account from Wieden & Kennedy was last week's big news. But, after the initial revelation, there was very little in the way of gossip to report. There was no sniping between the two agencies – just pleasantries exchanged on Twitter. But there were 12-hour benders by BBH staff to celebrate, and Jon Peppiatt even put his card behind the bar for a bit at The Blue Posts. Such excited largesse is not always embraced when the agency has something to celebrate. When BBH was named Campaign's Agency of the Year for an unheard-of three years on the trot, staff were apparently treated to lukewarm beer and onion rings in the foyer.