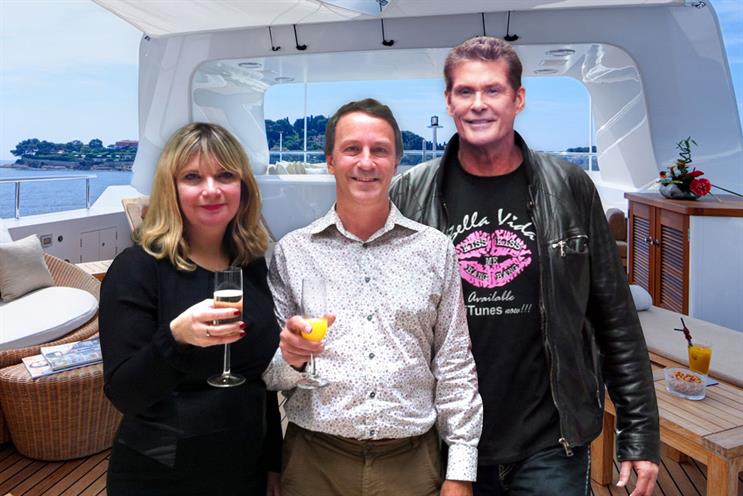 Ah, Cannes – the same old reddened faces. But Lida, keen to share the Lions love beyond its senior management team, offered employees the chance to win an all-expenses trip to the Côte d'Azur. Nicky Bullard, the executive creative director, challenged staff to create a video demonstrating how they would persuade David Hasselhoff, who is speaking at the festival, to visit the Lida villa for cocktails by the pool. Bullard chose Jo Legg, a senior copywriter, and Sara Pouri, an art director. If you're on the Croisette today, keep an eye out for them trying to locate Hasselhoff and tempt him back to their lair. That's if he's not too busy saving lives.
Cushty times at Isobel
Happy birthday to Isobel, which celebrated a decade in existence with a party at the agency's new offices. The bash was at least partly geared towards ten-year-olds, with the management generously laying on ice-cream, hot dogs and jelly. And we have no doubt the fruit punch was flowing. But then what ten-year-old has two celebrity lookalikes – Del Trotter and Patsy from Absolutely Fabulous, no less – on the guestlist? That might explain the look of surprise on the face of the managing partner, Paul Houlding. He may have been expecting Jamie Lynn Spears.
One in the Eye for King
Dave King might be many things, but "greasy"? Shurely shome mishtake? But this is the adjective that this week's Private Eye uses to describe the Telegraph's executive director and sales chief in a piece accusing the advertising team of having a powerful influence on what the editorial department writes about its commercial partners. We will leave others to make up their minds on the veracity or otherwise of those claims, but we have always found King to be anything but greasy. A Jimmy White lookalike, maybe, but definitely not greasy.