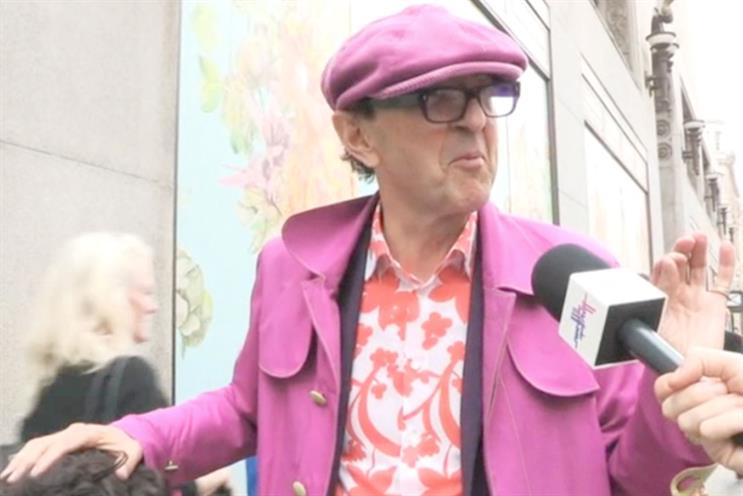 Perhaps it is fortunate few people are likely to have seen Robin Wight's appearance on BBC Three's Sweat The Small Stuff (pictured, right). But appear he did in a vox-pop sequence where he was asked whether he talked dirty during sex. Our septuagenarian hero took this impudence in his stride and replied: "No, but my wife does. She talks about all sorts of fantasies that I can only dream about – and it's great." And thereby also ruined the dinners of those who did happen to be watching.
If BBH did theme parks
The man who brought you the cheery yarn of the Yeo Valley rapping farmers has taken a rather different tack for his latest project. The Bartle Bogle Hegarty TV producer Glenn Paton has launched a Kickstarter fund for a short film he has written and hopes to direct about euthanasia. The fictional story involves a wealthy man with a terminal disease who constructs a rollercoaster so powerful that it enables him to die in a euphoric fashion. A Hollywood director has pledged £10,000 and you too can donate at tinyurl.com/n8w599c. It will be more than a fortnight's fun in one.
Chuck's party piece
The prize for best Cannes party invite goes to Chuck Porter, who has shown there's still lots of fun to be had from the aborted Publicis/Omnicom merger. It reads: "Several months ago, we announced our plans to merge the CP&B Cannes party with another major Cannes party to form the biggest Cannes party in the world – materially larger than the WPP Cannes Party. We believed that the scale of this combined Cannes party would have afforded significant benefits to our partygoers, and would have enabled us to better compete with some of the emerging Cannes parties such as Google and Facebook. As I'm sure you know, after months of careful exploration and analysis, the decision has been made to not go forward with the Cannes party merger. So, as it turns out, we're going forward with our original party as planned – a few old friends hanging out on the beach having a drink." Bravo.