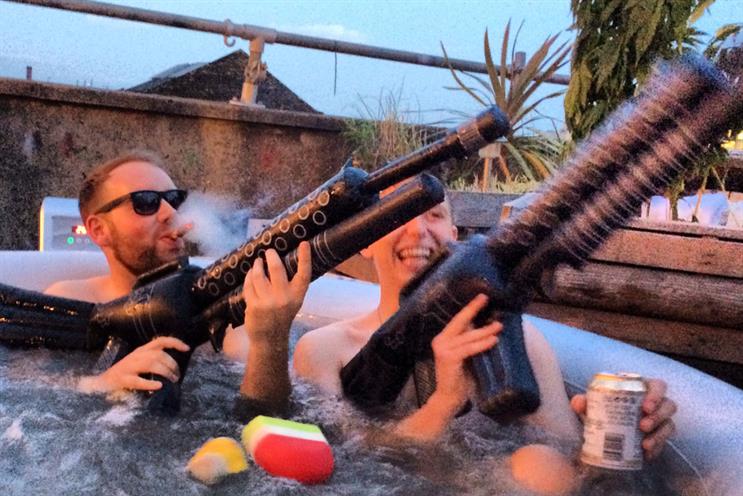 With Dave Buonaguidi leaving Karmarama after 14 years, was Ben Bilboul trying to turn back the clock and convince him to stay by emulating Hot Tub Time Machine? Actually, no – the hired hot tub was part of Karmarama's Miami Vice-themed annual summer party. Unsurprisingly, agency staff weren't exactly jumping at the chance to get their kit off in front of their colleagues and leap in, so Bilboul offered £50 to the first people to do so. This was enough for Paul Pearson, a senior copywriter, and Jack Fenton, the reception manager, to hop in, smoke cigars and, erm, get their guns out.
A scrum at the bar
It looks like Lawrence Dallaglio is already getting the hang of this advertising lark. Campaign spies spotted the England rugby legend turned BBH Sport head of business development knocking back sambuca outside the Blue Posts in London's Kingly Street last Thursday night. But while he may be settling into life at his new employer, Dallaglio's competitive spirit has not diminished. Sources said he was overheard plotting to overthrow Will Greenwood as the Bartle Bogle Hegarty chief executive Ben Fennell's favourite ex-international rugby player and BFF.
Creature remembers Britain's lost women
It's good to be able to celebrate advertising's positive contribution to society (something that our political classes seem worryingly oblivious to). So hats off to Creature for creating the winning image for Cosmopolitan's campaign to remember the victims of "honour" killings, which result in the deaths of about 5,000 women a year. The stark and chilling image was projected on to the Royal Opera House to coincide with David Cameron's Girl Summit. To pledge your support for victims of honour killings and forced marriages, visit Change.org.