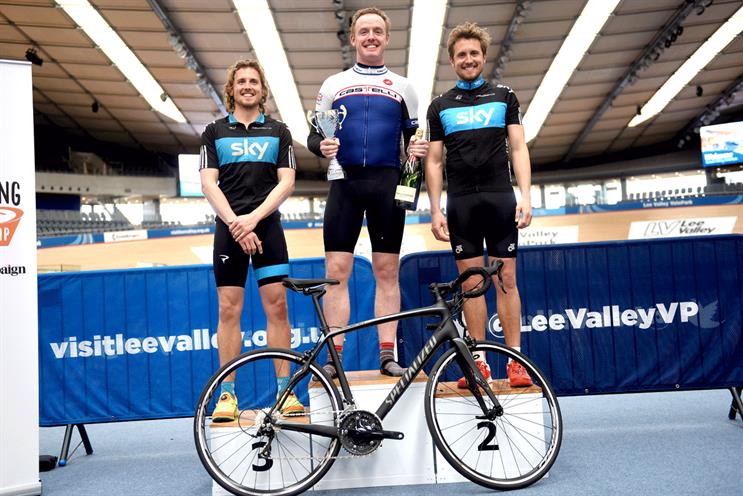 Just taking part is not enough in media land
Media people are a competitive bunch and can turn anything into a contest. Who earns the most? Who can sink a pint the fastest? Who can ignore programmatic buying longest? So it was nice to see that spirit directed into something healthy at the Lee Valley VeloPark last week, when agency folk competed to do the "fastest lap in media". Campaign partnered with Immediate Media for the race as part of Advertising Week Europe and Grant Woodthorpe, the head of trading at Metro, emerged the winner of the event. Here's a picture of Woodthorpe claiming his prize. Or, as Metro's sister publication the Daily Mail might phrase it: here's Woodthorpe pouring his curves into a little Lycra number.
There really is nothing procurement can't do
Will creative agencies and media shops come together again to form full-service offerings? It's a hot topic at the moment but WPP's chief executive, Sir Martin Sorrell, and others have said that they can't see it happening. Don't tell that to Mothercare, though. It seems there is nothing it does not expect from ad agencies. Last week, VCCP received a document from the company's procurement department asking the agency to pitch for the cleaning contract. After taking a look at the margins involved, VCCP's management was apparently quite receptive to the idea.
Grayson Perry makes unannounced cameo
Diary had a blast at last week's Advertising Week Europe. Its favourite moment came on Tuesday morning. The WCRS co-founder and flamboyant dresser Robin Wight was on his way to discuss personal branding on stage with Katie Price (aka Jordan) when he took a wrong turn and ended up in the press room. Wight was promptly pointed in the right direction and dashed off, whereupon the room fell silent. That is until a young PR piped up and asked what half of the room was evidently wondering: "Oh my God, was that Grayson Perry?"