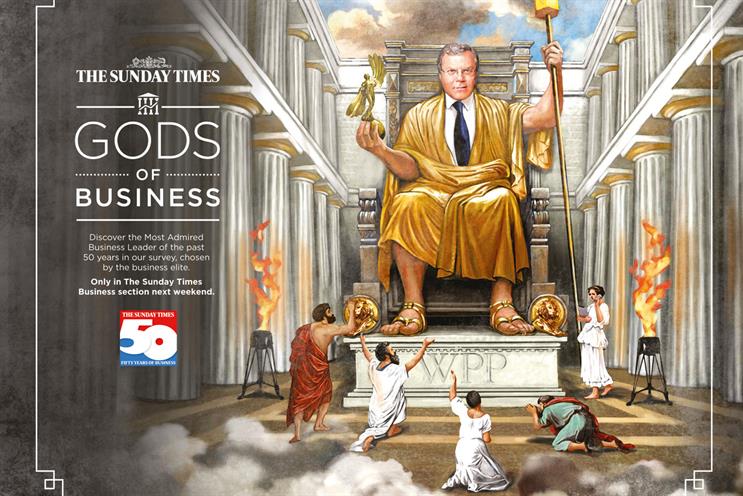 When The Sunday Times ran a Gods of Business supplement, how did Team News depict its own great leader, Sir Martin Sorrell? Surely, the constraints of modesty and humility would result in something understated and subtle? Er, no. Instead, he is portrayed as a Roman god, with minions bearing gifts and kneeling before him. Rumour is that Sorrell was so taken with the ad that he asked for a copy. Give that team a pay rise.
Dirty protest at M&C
We didn't think it would be possible to top the Shicklegate e-mail affair in 2012, but then along came someone at M&C Saatchi and, er, Shittygate. The furious all-staff e-mail sent last week is pretty self-explanatory. It reads: "To the person who crapped all over the floor in the client toilets and just left it for someone else to clean up – you should be very, very ashamed of yourself. We know who you are as we have you on CCTV. I hope your hangover is truly hideous." Two observations: 1. M&C Saatchi has toilets that are just for clients? 2. They also watch them on CCTV? Surely not.
Magnolia just will not do for arty ad types
When WCRS's joint executive creative director Ross Neil and his girlfriend, the creative director at Unit9 Films and special lecturer at Central Saint Martins, Steph Hamill, bought a new house in Hackney, they took the term "blank canvas" to heart. The couple gave 15 graduates the opportunity to use their walls to paint artworks and invited people from the creative community to come and watch. As a result, Warner Music has offered work to some of the artists and WCRS has commissioned one to create a piece of art on a big glass wall in the agency. The murals won't be around for long, however, as the house is due to be redecorated in a few weeks. We dread to think of how many rolls of Anaglypta they'll need to cover it all up.
Got a diary story? Email us at campaign.diary@haymarket.com