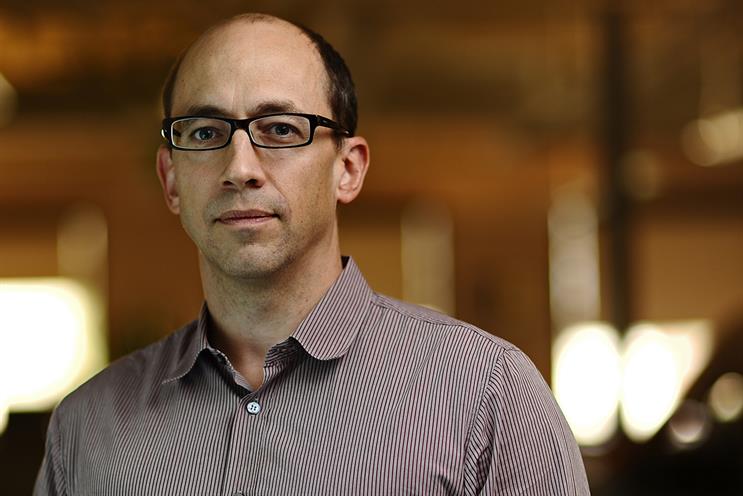 The corporate logos emblazoned on the beach bars along the Croisette during the Cannes Lions International Festival of Creativity say a lot about where the money is. In the old days, the big ad networks used to splash out on hosting a mishmash of clients, staff and friends. For some years now, however, you have not been able to move a bejewelled Jimmy Choo for tech dollars. This week, Twitter will be there with the best of them.
In arguably Friday's flagship session, its chief executive, Dick Costolo, will debate the relationship between social and TV with the leaders of Viacom, Philippe Dauman, and WPP, Sir Martin Sorrell.
Costolo describes the festival as an "important opportunity" to meet agencies and brands from around the world. "We love hearing about how they're using the platform and always come back to San Francisco inspired by their creativity," he says.
A serial entrepreneur before joining Twitter in 2009, Costolo is credited with transforming the company into a grown-up, professional operation. If you believe Nick Bilton, the author of Hatching Twitter, the social network's founders spent all their time scheming against each other and promoting themselves. In contrast, Costolo was a proven leader (he co-founded and then sold the RSS platform FeedBurner to Google for $100 million) and brought strategic direction to Twitter.
Costolo is a man with ambition. He wants Twitter to reach every person on the planet. Although 225 million active monthly users are not to be sniffed at, there is some way to go to achieving his goal.
"It is the only platform in the world that is simultaneously live, public and conversational, and that makes it the best way to keep up with your world," Costolo says. "There is still so much that we need to do to make this a reality, but we are excited about where we are today and motivated by the huge opportunity ahead."
Twitter has already transformed the way many people watch TV. A recent Nielsen study in the US found there are only three things that correlate with a show's ratings: investment in the marketing of that programme, the previous season's viewership and Twitter. Unsurprisingly, Costolo says that the "real-time, public nature" of Twitter means the platform naturally complements live events too. The World Cup, which starts today, will be a "month of live TV moments", he adds.
If Twitter drives the viewing of live events, advertising on the platform can accelerate spend elsewhere, Costolo says. A Twitter study found that UK campaigns using TV and Twitter had a 36 per cent lower cost per acquisition than those that just used TV. "We talk about Twitter advertising being a bridge, not an island," he explains. "We can help brands get more out of their offline ad budgets."
Although not an adman, Costolo is passionate about how Twitter can work for brands. "Traditionally, advertising has been one-directional: talking at customers and hoping they listen," Costolo says. "Twitter gives brands the opportunity to talk with their customers, which in turn brings them closer than ever before. People love the direct access that Twitter gives them to sports teams, politicians, news organisations and celebrities. And the same goes for brands."
Twitter gives brands the opportunity to talk with their customers, which brings them closer than ever before
Whether or not it is because the platform is populated with A-listers, Twitter gives agencies and brands a certain star quality. The agency holding companies have clamoured to sign deals with the social media giants over the past 15 months. Twitter offers a "first look" at ad units and opportunities in return for a commitment of revenue. Privately, many suggest the alliances are mainly about showing that the ad groups "get" social media.
That is not what Costolo says, of course: "The recent announcement with Omnicom was the first to also include a significant commitment to our mobile ad exchange, which reaches more than one billion Android and iOS users. Bringing the mobile ad exchange and Twitter-owned and operated ad inventory together is extremely exciting. Each of these arrangements is unique and we work closely with the agencies to understand where they see the most value from a potential partnership."
Despite his success, technology was actually a fallback option for Costolo. After taking an acting class to fulfil an arts credit requirement at university, he found that he quite liked it. Once Costolo graduated (in computer science), he moved to Chicago and joined the improvisational-comedy troupe Second City. But after six years of auditions and no success, he admitted defeat. It was not all for nothing, however:
"Practising improvisational comedy has taught me to take bigger risks, make bolder bets and constantly stretch the boundaries of what we think might be possible."
When Steve Carell, a fellow Second City alumnus, bumped into him, the star of The Office US joked that he was sorry Costolo had not fulfilled his dream of becoming a comedian. Maybe he was not right for Saturday Night Live, but it seems as though Costolo has found his métier at Twitter.