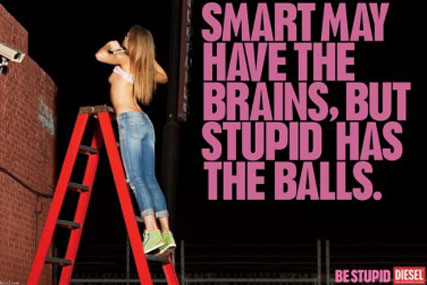 The ads received 33 complaints objecting to the ads on three key points: They were unsuitable to be seen by children; they were offensive; and that they encouraged behaviour that was anti-social.
The ads, part of Diesel's 'Be Stupid' campaign, were created by Anomaly and ran in January.
One poster featured an image of a woman standing outdoors in a bikini. The woman was shown holding open her bikini bottoms with one hand and taking a photograph of her genitals with the other.
A lion was shown prowling behind her and text stated "Smart may have the brains, but stupid has the balls. Be stupid, Diesel".
Another poster featured an image of a woman on a stepladder who was lifting her top and exposing her breasts to a security camera and ran with the same text as the other poster ad.
In its defence, Diesel said the poster and press activity showed the women on the ladder "in a non-exploitative way" and, furthermore, that the message tackled pre-occupation with 24/7 camera surveillance in a light and unthreatening manner.
Diesel argued there was nothing within the content of the ads that was offensive and that they did not contain any provocative nudity beyond the usual amounts shown in many swimwear, sportswear or lingerie ads.
However the ASA considered that the poster campaigns contained sexual undertones, which were likely to be seen by children due to the mass broadcast nature of outdoor media.
The watchdog also noted that the poster ads were likely to cause serious offence to many adults as it was clear the girl was taking a photograph of her genitalia.
Similar ads also appeared in magazines Grazia and Dazed and Confused, but the more targeted nature of the titles meant there were no complaints about those.

The ASA ruled that the poster ads breached Cap Code clauses "Responsible advertising" and "Decency" and have been banned from appearing in the same form again. It did not find the magazine ads in breach.
Earlier this month the fashion brand kicked off a review of its global advertising business after Anomaly resigned the account.
Anomaly was awarded a Grand Prix in the Outdoor category for the Diesel 'Be Stupid' activity, in Cannes last week (22 June).