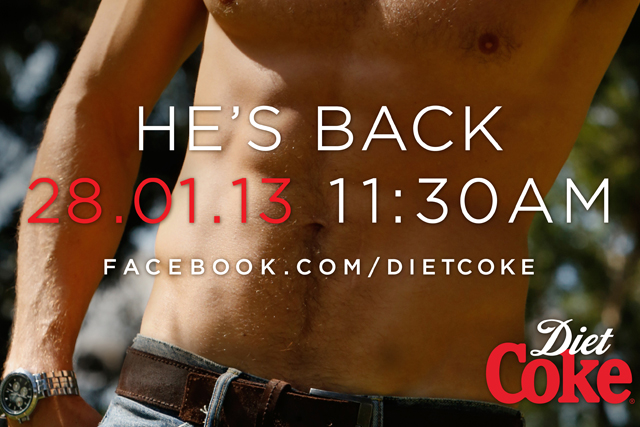 The 20-second clip, on the brand's Facebook page, features the Etta James track 'I Just Want To Make Love To You', used in Diet Coke's famous 1996 ad, which introduced the 'Diet Coke' hunk.
It shows a close-up of a man about to remove his T-shirt, followed by a close-up shot of a woman drinking from a can of Diet Coke. It then states, "He's back", before calling on viewers to return to its Facebook page at 11:30am on Monday (28 January).
On its Facebook page, the brand states: "'I just wanna to make love to you!' Here's your very first look at the new Diet Coke Hunk! Don't forget to share with your friends..."
As revealed by Marketing last year, Diet Coke is putting its birthday celebrations at the centre of its UK marketing plans for 2013, as the brand seeks to engage with its core female target audience.
Last year, the soft-drinks firm hired BETC London to its £40m ad account for North-West Europe and the Nordics, to devise a new creative strategy for Diet Coke.
Check out a list of the best Diet Coke ads of the past 30 years.