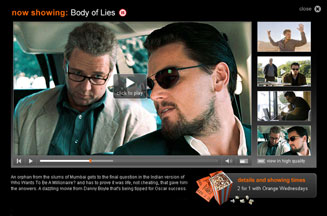 Brands' appetite for digital work remains insatiable. The recession may have challenged many marketing disciplines, but it has boosted online's appeal as marketers seek greater accountability and respond to the accelerating audience migration to the web.
As a result, online advertising spend has now overtaken TV. It grew 4.6% to £1.75bn in the first half of this year, according to the Internet Advertising Bureau, despite the overall advertising market shrinking 16.6%. The web's market share, meanwhile, rose from 19.2% to 23.5%.
In this context, it should come as no surprise that several agencies, including AKQA, eCircle and Red Bee Media, have all reported significant growth, of 41%, 46% and 58% respectively. However, the recession has forced brands to reduce costs, leading to tougher price negotiations and more drawn-out decision-making.
'Prevarication and procrastination have become the norm; digital project spend now requires approval from higher levels within client organisations,' says Ben Langdon, chief executive of Digital Marketing Group (DMG).
This indecision has been compounded by the conflict between the need to be accountable and the desire to be innovative. 'If you put something outlandish on the table, clients want guarantees and safety. If you lay down something straight and practical, they want creativity,' says Iain Tate, founder of Poke, which has worked on recent campaigns for Orange, Skype and Oasis.
The downturn has also led marketers to reassess their agency arrangements, many shifting digital work to their ad agency.
However, Juliet Blackburn, head of digital at the AAR, has observed that, in some cases, 'while agencies can talk the talk, they have been unable to deliver a real understanding of digital audiences, and digital agencies have therefore been able to win business back'.
Recession aside, in the past 12 months digital media has rooted itself even more firmly in mainstream culture, and digital agencies have subsequently found them-selves engaged in a deeper, more strategic relationship with their clients.
'As digital has become more important, the role of digital agencies has changed and we are seeing them becoming much more central to our strategic development and long-term brand ambition,' says Spencer McHugh, brand director at Orange.
The telecoms company's close relation-ship with Poke led to the 'Balloonacy' campaign, which aimed to generate awareness of Orange's animal-themed price plans among social network-savvy 16- to 24-year-olds via a 'balloon race' across the web.
Similarly, Michael Karg, senior vice-president at Digitas London, has seen an evolution in its relationship with client Procter & Gamble. 'It began as executional, but is now much more strategic. We are also finding that we are stepping up to be lead agency on more campaigns,' he says.
One of the big issues facing digital agencies is that their supremacy in the digital arena is no longer unquestioned.
Ad agencies, direct marketing shops and customer publishing agencies are flaunting their digital expertise and stealing business from pure-play digital shops. 'We have seen a march of ad agencies, especially, on the digital space, which have been tempting specialists out of pure-play agencies to improve their skill set,' says Blackburn.
While some traditional agencies may not be up to the job, others are producing award-winning digital work. Bartle Bogle Hegarty, for example, developed an online campaign for children's charity Barnardo's, which won a Gold Cyber Lion at Cannes. Digital agencies are therefore facing stiff competition and being forced to work harder to prove that they can provide something unique.
'We're digital experts, not jack-of-all trades all-rounders,' says Langdon. 'We also understand data more than anyone else in our space in the UK. This prevents our business being eroded [by ad agencies].'
Tony Effik, head of strategy at Publicis Modem, acknowledges that while a big idea can come from a creative agency as much as a digital one, digital communications agencies are unrivalled in their ability to connect directly with consumers.
'Digital agencies really understand the power of a contagious idea and the mechanics of the structure of the web - how content on a Facebook wall can go viral and how a microsite can link to email,' he argues. 'They understand how to take a big idea and make it work.'
Digital agencies are also wooing clients with their ability to keep up to speed with  digital developments. The iPhone has given a glimpse of mobile's true capabilities and the number of people accessing the web via their phone continues to grow; the IAB reports an average 179% rise in social network users on mobile internet in the three months to the end of October 2008.
Mobile apps are now big business, moving from gimmicks such as last year's iPint to utilities such as Tentfinder, which was released in time for Glastonbury this year and helped festival-goers locate their tents on-site. Sony Ericsson, meanwhile, installed apps on its handsets, including a 'spy phone' and 'fingerprint reader', for a James Bond campaign through Iris Digital.
Augmented reality, which, for example, enables consumers using a webcam to try on virtual clothes, is also creating a lot of buzz, but is still at the 'gimmick' stage, according to Effik. 'We should see it move to utility in the next year or so,' he says.
Tait believes that a bigger emphasis will be placed on creating long-term digital platforms for clients. 'Nike+ and Fiat EcoDrive are fantastic examples of the things that clients with deep wallets and big ambitions should be shooting for,' he says.
There is also likely to be a renewed focus on organic search. 'It is the principal driver of reach, along with interaction with social media. It is all about the number of people who search for your content,' adds Effik.
While social media has evolved into a mainstream activity for many brands, it has also developed a degree of maturity. Brands are thinking carefully about how they use it to ensure they get the maximum benefit.
'Too often agencies put it out there and expect it to work. Activation is paramount, it is about ongoing engagement, communication and follow-up,' says George Nimeh, managing director of Iris Digital, which used social media to promote a competition for football fans to win tickets to a Sony Ericsson VIP party earlier this year.
The plethora of suppliers and the speed of developments mean marketers need to be absolutely clear about what they want.
'We select our digital agencies on exactly the same principles that we do other agencies: good strategic thinking as well as quality delivery,' says Jonny Freeman, digital marketing manager at Honda UK.
The car manufacturer worked with Collective for its 'Good to grow' campaign supporting the launch of the Honda Insight car in April. The gardening-themed work was intended to highlight the Eco Driver Assist system of the model - a dashboard display featuring five 'plants' that grow if you drive more efficiently. Online activity invited participants to back five real plants each, from bulb to full bloom. A greenhouse-cam kept entrants up to date on their plants' growth, while 'Al Honeysuckle', resident virtual gardener, provided regular Twitter updates. The participant with the first five plants to bloom won a £10,000 prize to split between an eco-friendly holiday and a charity.
'Good to grow' attracted 123,060 unique visitors; half of these requested a brochure and 146 test-drives were booked.
Adrian Cockle, head of online at environ-mental charity WWF, focuses on creative thinking. 'We want an agency that can look at a campaign and come up with the most appropriate and innovative ideas, rather than the most digital solution,' he says.
This demonstrates the growing trend for marketers to seek a more holistic, integrated strategy that can be extended offline. While many digital agencies are adept in this area - AKQA, for example, created an integrated campaign, including TV and in-store, for Nike's 5-a-side football activity - pure-play agencies can still fall down here.
Too few digital agencies understand traditional channels and can really plan integrated activity, according to Matt Isaacs, managing partner at Essence and a former chief marketer at Goldfish Bank. 'If you've run integrated activity, it is virtually unthinkable that you'd take a highly siloed approach to marketing,' he adds.
Meera Chandra, managing director of Syzygy, says agencies need to go further to demonstrate ROI and closure of sale. 'Once the activity has got a consumer excited about a car, for example, it needs to offer a test-drive.'
Nonetheless, it remains an exciting time for digital. The challenge for agencies is to keep up with developments, produce the most engaging work and prove the medium's effectiveness - the latter being digital agencies' most powerful weapon in the current economy.
The ferocity of competition from all sides will ensure that digital will be a territory fought over for some time yet.