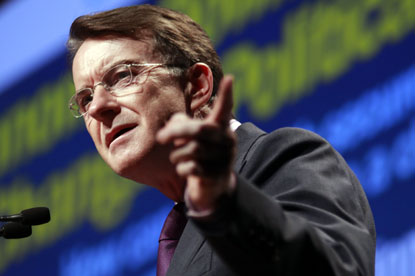 The business, enterprise and regulatory reform secretary, speaking at the Digital Britain summit, was responding to concern that 12.5 million homes in the UK still have no access to broadband networks.

There has also been lingering concern about how the Government's aim of universal broadband access is to be funded.

"I'm a public investor when it is appropriate and right," Mandelson told delegates. "But I am not someone who believes in dislodging the private sector when it needs to be in the lead."

The summit's aim is for leading players in the digital economy to make their views known and for ministers to take soundings in advance of the government's final Digital Britain report due to be published at the end of July.

Stephen Carter, the communications minister, whose interim report was published earlier this year, said he hoped the result would be government legislation before the next general election.

He claimed the UK's progress towards a fully-digital society compared well with the programmes already in place in other major countries such as the US, France, Australia, China and Japan.

Britain's big advantage was that it had a large population in a small locality, the former JWT boss said.
These factors lent themselves to a development of digital business.

He added: "We also speak English – and English sells."

Carter also indicated that new legislation might be needed to give extra protection to consumers as the digital economy evolved.

"There are some issues we need to get right, both in this country and internationally internationally," he said.