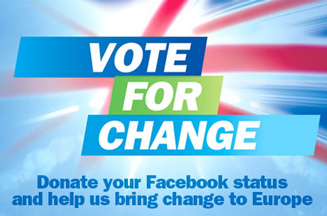 The opposition party has created an application which allows it to automatically update supporters' Facebook status with campaign messages. One lets the users' friends know they have installed the software while the second message is a reminder of why people should vote Conservative.
A third, planned for polling day, takes the form of a call to action from Tory leader David Cameron.
If they wish to users can still manually update their statuses.
This latest piece of campaigning activity follows a raft of digital initiatives by the Tory party. It has increasingly turned to online activity because of the cost-effectiveness of the media compared to above-the-line advertising.
Activity has included buying words on Google relating to MPs expenses to seize the initiative in the row while Cameron has subjected himself to questions via a CoveritLive blog and through Twitter.
Jeremy Hunt, online spokesman for the party, said digital activity such as using Google pay-per-click was a key part of the Tories' campaigning strategy. 'This will continue apace as the General Election draws closer.'
Labour has responded digitally through the launch of a website, cameronsconservatives.co.uk, which reinforces it message that a Cameron government would cut public spending.
It has also ploughed money into an online virtual phone bank - which allows members to call voters from their own homes and enter the results of their calls directly into the phone bank online.
However despite spoofing a Twitter conversation between the shadow cabinet last year Labour has done less than the Tories in terms of using social networking sites.
There is widespread concern across the major political parties that the MPs expenses scandal will see voters turn to smaller and extreme parties. However polling suggests that Conservatives lead with around a 30% share of the vote.
Separately, ISBA could lose its public affairs director Ian Twinn as he is standing for one of London's Conservative European Parliament seats.
Twinn had a short spell as an MEP between 2003 and 2004 but was MP for Edmonton for 14 years before being unseated in the 1997 Labour landslide.